Create an office space that inspires productivity
| Office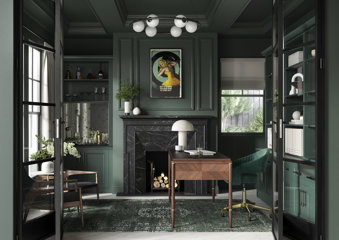 Create an office space that inspires productivity
Remote working is a reality for many of us these days, so why not make the leap and create your dream space that is entirely dedicated to working from home?
It's no secret that our homes can be full of distractions. Ensuring you have a space to get away from it all, keeping you focused and ensuring you are comfortable throughout the working day can really help with your productivity.
Follow our easy and simple design tips for home office decoration, helping you to create your ideal WFH setup.
Invest in good lighting
Ensuring your working space is well-lit can increase your productivity levels. Natural light is great for keeping your energy and attitudes towards work high, so maximising this opportunity where you can is a must.
Whether you prefer bright white lighting or a warm glow, good home office lighting can make your space feel comfortable and inviting. Creating a modern home office design can certainly help you look forward to work.  
Not all of us get to choose our work hours so if you're working into the night or throughout the winter months, good artificial lighting will help to prevent eye strain and headaches. Working in the dark may also have an impact on your mental health, so ensuring your workspace is well-equipped for the late evenings will help to reduce this impact.
Give everything a home
It's easy for things to accumulate during the busy working day, causing clutter and mess in your workspace. Ensuring each of your belongings have a home is crucial for creating a clean and organised environment.
Floor-to-ceiling cabinets and built-in drawers provide the perfect storage opportunities for your electronics, paperwork, and office essentials. Built-in home office storage can provide structure to your space. Organisation is key to keeping both your space and mind clear from distractions. With the right storage furniture, you can keep your items tucked away and present a clutter-free, minimal working environment.
Comfy chairs are a must
You'll likely be spending a lot of time in it, so investing in a comfy and ergonomic desk chair is essential. Poor posture from improper seating can lead to neck, back, and shoulder strain that can turn into long-term health conditions.
Invest in a chair that is made from high-quality materials and has adjustable height and lumbar support. This will ensure you are always able to sit correctly and maintain a good posture throughout the day while at your desk. 
As well as protecting your back and shoulders, having the right chair and being comfortable while you work can also be beneficial in other ways. For instance, it can increase motivation and morale levels, as you're not distracted by back pain and won't associate having a sore back with doing work. Additionally, it can reduce distractions as you won't be switching up positions constantly or worried about any muscle strains. This, in turn, allows you to be more productive.
Utilise that awkward space
Not everyone has the luxury of a spare room that can be converted into a home office, but you'd be surprised by what you can do with those awkward alcoves and unused space underneath the stairs.
Your home office storage ideas are limitless with Hammonds. Our team of experts can create bespoke storage solutions for awkward spaces, freeing up space that can be used for your home office setup.
Scents, sounds, and temperatures
Our homes are full of smells and sounds that are incredibly distracting, so optimising your surroundings to block these out can be useful. You can consider investing in small things such as water diffusers, soothing scents, and headphones to keep you in the zone.
Taking control of the temperature is important too, especially during the warmer months. Feeling too warm while working can potentially compromise your focus, accuracy, and efficiency to complete your job role successfully.
Cold temperatures can also have a significant impact. Not only can this affect your productivity levels, but it can cause your muscles to tense up, causing various aches, pains, and discomfort.
Feel inspired with Hammonds
Transform your home and consider bespoke fitted storage for your home office. Maximise your full potential by creating an office space that increases your productivity levels and inspires you to achieve your goals. Get started by booking a design visit with Hammonds today.
You bring the space, we bring the inspiration
Whether you have an exact vision in tow, or are just at the beginning stage of your home renovation, we have heaps of inspiration for you to get stuck into. 
Find a wealth of design tips, trends and inspiration in the pages of our brochure, magazine and on our blog. Our experts are always ready to help you create dream home, pop in store or book your free design visit for experts to help on bringing your vision to life.