Alcove Wardrobes
Fireplaces look stunning in any home. If you're looking to use the space at either side of your fireplace, alcove wardrobes are a great way to maximise your bedroom space. Implement organisation and tranquillity with Hammonds and make the most of the depth, height and width of your alcoves.
Custom-made alcove wardrobes
Built to fit your space perfectly, a bespoke storage solution from Hammonds could be just what you're looking for. Often giving you twice as much storage as a free-standing wardrobe, our built-in alcove cupboards and shelves run from wall to wall and floor to ceiling, giving you more storage and hanging space.
Create your dream bedroom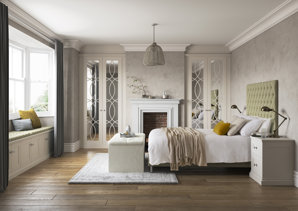 We know how important it is for you to create a bedroom space that evokes a sense of calm and tranquillity, and by ensuring your clothes, shoes and accessories are organised you can do just that. With one of the designs from our built-in alcove wardrobes collection, you'll be able to enjoy your newly organised bedroom space in no time.
Need Inspiration?
Refine your vision for your alcoves by booking a free design visit and source further inspiration from our magazine, free brochure or blog.