Eaves Storage Solutions - Fitted Wardrobes
The eaves are often an underused space in many attic bedrooms. This space can be used for storing a variety of things, from clothing and shoes to toys and linen. Don't let this space go to waste - let our team design the perfect eaves storage for your home.
Create your dream bedroom
A well organised space is a peaceful space, one that evokes a sense of calm and relaxation; with under eaves storage or eaves wardrobes from Hammonds, you can create exactly that. The sloping ceilings and eave space in loft conversions are ideal places to store so many bits and pieces.
Personalise your space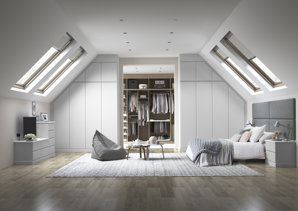 Whether you choose to have a variety of storage solutions such as drawers, shoe storage and hanging space or only have enough room for one type, we have eaves storage solutions for every home.
With space often in short supply in many loft bedrooms, it's important to use as much floor to ceiling space as possible; with eaves storage solutions, you can do just that. Designed and crafted with you in mind, create a truly personalised eaves wardrobe space with Hammonds.
Need Inspiration?
Refine your vision for your eaves by booking a free design visit and source further inspiration from our magazine, free brochure or blog.