Fitted Wardrobes for Small Box Bedrooms
No matter how small your space is, make the most by having a built-in wardrobe installed. Forget about free-standing furniture; with a sleek and stylish box room wardrobe from Hammonds, all your clothes, shoes and accessories will have a place. A well-ordered home is key to a well-ordered life.
Bespoke storage solutions
Maximise your storage capacity and utilise your space from floor to ceiling; you can completely personalise the interior of your small bedroom fitted wardrobes with multiple hanging rails, shoe racks or cosmetics storage compartments, making sure it's suited to your lifestyle. Whether you'd love sliding doors, a more traditional style or something "handleless", we have the perfect choice to suit every home.
Utilise every inch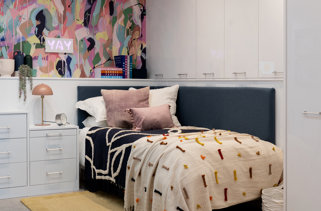 Create a peaceful haven, no matter how small your bedroom may be. With a space free from clutter, your little room will feel much bigger in no time. By making the most of every last bit of height, depth and width possible, you'd be surprised at how much storage you can gain from fitted wardrobes for a small room.
Need Inspiration?
Refine your vision for your small bedroom by booking a free design visit and source further inspiration from our magazine, free brochure or blog.