Sustainability
Through every step in our process we, at Hammonds, are conscious of our impact on the environment. Every day we are taking the steps required to ensure we care for and give back to our planet.
"In everything we do, we make sure to have as little impact on the planet as possible."
Doing our bit
Carbon Neutral

From 2020, every edition of Moments magazine, every brochure and brochure envelope is now carbon neutral. Even better, the brochures are free from single use plastic, and 100% recyclable. This conscious effort saves an estimated 55 tonnes of carbon per year, which equates to more than the average annual carbon footprint of 4 people in the UK!

Carbon Quota

'We are committed to reducing the environmental impact in our operations and are working with Hammonds to assess the cradle to grave carbon footprint of this publication. This assessment is being independently undertaken by Carbon Quota and we will use this to create a baseline against which we can plan carbon reduction targets for future versions.'

World Land Trust

The carbon emissions of this paper have also been offset through the World land trusts Carbon Balanced programme, which protects tropical forests under imminent threat of deforestation and degradation.

Packaging Recycled Responsibly

With every installation our fitters will take away every scrap of packaging to our regional warehouses, our drivers will then collect this to be recycled responsibly, whether that's in our factories or at dedicated recycling plants. Leaving your home and the environment as tidy as we can!

100,000 Trees Planted In 10 Years

Whilst sourcing all of our materials from sustainable forests, we've also consciously given back to the planet, planting trees to replace the ones we used! We've planted over 100,000 trees in just 10 years donating over £1 million to the Woodland Trust.

Reducing Our Waste

We aim to create as little waste as possible, so we use the majority of our wood offcuts to heat our factories.
Supporting our local communities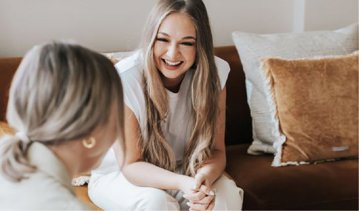 At Hammonds we take pride in supporting our local communities.
We recently got involved in a fundraising event with Kelly Drummond in her attempt to raise £50,000 in just 12 months for The Ewing's Sarcoma Research Trust. Hammonds sponsored some items for Kelly's silent auction in December.
Elsa the cat has been living on Hammonds factory grounds for the past 14 years, and has finally been reunited with her owner. Given Elsa's health, Hammonds made a donation for the operation she needs. 
Why Choose Hammonds?
We've been crafting beautiful, quality furniture for almost a century. Through the years our focus has always remained the same – understanding our customers' needs and crafting custom designed furniture that helps them live better. Each piece is made at our purpose-built Leicestershire workshops, using the finest quality materials and skilled, passionate craftsmanship. Always striving to do things better, we recycle all material offcuts and packaging – helping people live better, whilst doing our bit for the planet.
Need Inspiration?
Refine your vision for your home by booking a free design visit and source further inspiration from our magazine, free brochure or blog.