Fitted Wardrobes
Our fitted wardrobes are designed and crafted with you in mind. We take into consideration your needs, style and space to ensure we build the best storage solution for you and your home.
Fitted wardrobes can transform your home into a well-ordered space, with a host of styles, finishes and interior options, there's the perfect choice for every room. Browse our ranges and see how our fitted wardrobes can bring your dream home to life and help you live better.

Book a Free Design Visit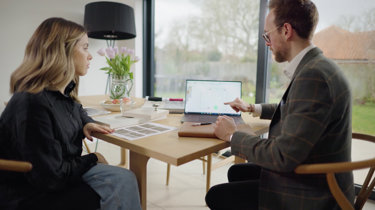 Our free home design visit is the key to creating clever, beautiful storage. Whether we're designing a clutter-free bedroom, a serene place to unwind, or a fitted wardrobe to keep mess at bay – our intention remains the same… How can we help you live better? From the moment we arrive, we're listening to you, chatting and thinking about how we can cleverly design your bespoke built-in wardrobes to meet your needs. We'll talk inspiration and style… then we'll get to work. We'll start by measuring up and then bring your room to life. By tweaking, tailoring and adjusting, we'll make sure your 3D design is just right.
Book a design visit
Bespoke storage options
Our made to measure bedroom furniture and wardrobes are available in a host of styles, finishes and interior options, so we can create a custom-designed bedroom that is unique to you. Browse our range and discover how our bespoke built-in wardrobes can help bring your dream bedroom to life.
Six things you need to know
About hammonds fitted furniture
At Hammonds, creating stylish yet practical storage solutions is what we do best - and there are several things we take into account.
Helping you live better

From busy side tables to overflowing wardrobes and chaotic drawers, we're dedicated to transforming your bedroom into a calm, organised space you can be happy in. With the help of our bespoke fitted wardrobes and clever storage solutions, we'll help you create a serene bedroom that leaves you feeling rejuvenated.

Unrivalled Quality & Value

We've taken all the knowledge we've gained over the last century and built the best team of passionate carpenters to design and make the best quality fitted bedroom wardrobes at the best possible price. We care about transforming spaces and helping people live better – which is why we make attainable, beautiful made-to-measure wardrobes for any and every home.

Doing our bit!

Every day we're taking steps to reduce our impact on the planet. When you choose bespoke fitted wardrobes from us, you're keeping your conscience clean. We bring back every piece of cardboard, plastic and wood from your fitted wardrobe installation, recycle it back at our head office and use wood off-cuts to heat our factories.

Better design

With the widest choice of door styles, finishes and interior and storage options to choose from, our built-in wardrobes embrace every space and need. Designed and built to be the best storage solution for your home, our fitted bedroom wardrobes work hard to keep your bedroom tidy, so you don't have to.

See your dream... on screen!

Our design visit is the key to creating clever, beautiful storage. Whether we're designing a minimalist bedroom scheme, a chic fitted wardrobe or a rustic bedroom design, we'll bring your dream to life on screen with a beautiful 3D visual. There's no better way for you to see how our fitted wardrobes will work for you and your bedroom.

Sleep easy with our 10-year guarantee*

It's probably the only thing we'll leave with you that you'll never use. Our 10-year guarantee covers our workmanship and materials for ten years. When you buy fitted wardrobes from us, you rest assured you're getting nothing but sophisticated designs and a superior quality finish.

 

*Excludes Stair Space
We make things better
QUALITY, ONE WORD THAT SUMS UP 'THE HAMMONDS WAY'
We have over 90 years of experience under our belt. Designing practical spaces that stand head a shoulders above the rest is what we do best. You can count on us when it comes to using responsibly sourced materials for your fitted wardrobes and built-in bedroom furniture, and our craftsmanship is second to none.
Request a Free Brochure