Why choose fitted furniture?
Hammonds fitted furniture is designed and crafted with you in mind. We take into consideration your needs, style and space to ensure we build the best storage for you and your home. Here's how clever, fitted wardrobes can help transform your home into a well-ordered space...
More space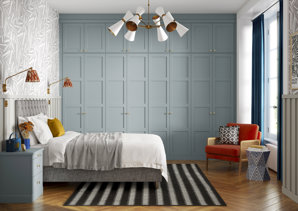 Fitted furniture utilises every square inch of space, at Hammonds we offer wall-to-wall, floor to ceiling solutions to ensure you maximise the space available in your home and have room for everything. When compared with free-standing wardrobes you'll gain so much more space and our priority will always be to put empty areas to good use.
Explore Ranges
Organised storage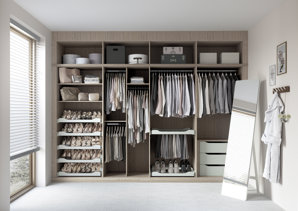 The internal options available with our fitted furniture give you clever storage solutions to maximise your space. From simple double hanging (offering twice as much hanging space) to slide-out shoe storage - our fitted furniture can be perfectly tailored to your needs.
Explore Storage Options
Embraces awkward space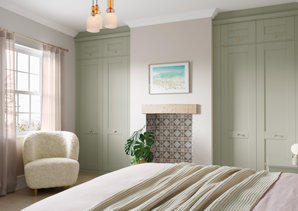 From angles and alcoves to beautifully high ceilings, we all have awkward spaces in our homes - tailored fitted furniture allows you to utilise every inch of space and transform it into clever storage.
Awkward Spaces
Built to last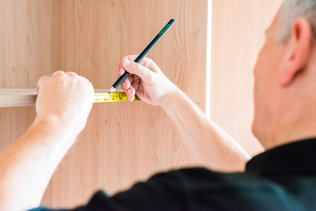 Whilst fitted furniture can be a bigger investment than some freestanding furniture, with Hammonds you have the added peace of mind that the furniture will last 10 years, so if you compare the price against the length of your guarantee, alongside all the other benefits of fitted furniture - your investment in fitted furniture gives you a lot better value.
Our Guarantee
Adds value to your home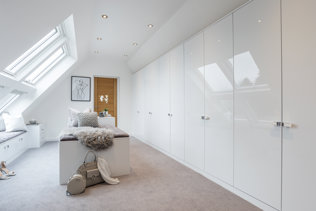 It's a proven fact that fitted furniture can make your house easy to sell when the time comes. What a great investment!
Be Inspired
Our Story
Over the years we've honed the Hammonds journey, to ensure you get the best possible experience when transforming your home with us.
We're proud of our heritage, which is why all of our furniture continues to be designed and made in the UK. We have over 30 inspirational showrooms spanning the whole breadth of the UK, meaning we're never far away; our expert designers are always on hand to help bring your dream space to life.
For added peace of mind, we have a 10 year guarantee, whilst always ensuring we do our bit for the environment.
Find Out More
Six things you need to know
About hammonds fitted furniture
At Hammonds, creating stylish yet practical storage solutions is what we do best - and there are several things we take into account.
Helping you live better

From busy hallways to overflowing wardrobes and disorganised office spaces, we're dedicated to transforming homes into calm, organised spaces you can be happy in, with our clever storage solutions.

Unrivalled Quality & Value

We've taken all the knowledge we've gained over the last century and built the best team of passionate carpenters to design and make the best quality fitted furniture at the best possible price. We care about transforming spaces and helping people live better – which is why we make attainable, beautiful storage solutions for any and every home.

Doing our bit!

Everyday we're taking steps to reduce our impact on the planet, from bringing back every piece of cardboard, plastic and wood from your installation and recycling it back at our head office to using wood off-cuts to heat all our factories.

Better design

With the widest choice of door styles, finishes and interior and storage options to choose from, our furniture is guaranteed to embrace every space and need, designed and built to be the best storage solution for your home.

See your dream... on screen!

Our design visit is the key to creating clever, beautiful storage. Whether we're designing a clutter-free bedroom, an organised home office, or a calmer living space we'll bring your dream to life on screen with a beautiful 3D visual, there's no better way for you to see how our furniture will work for you and your home.

Sleep easy with our 10-year guarantee*

It's probably the only thing we'll leave with you that you'll never use. Our 10-year guarantee covers our workmanship and materials for ten years.

 

*Excludes Stair Space
Why Choose Hammonds?
We've been crafting beautiful, quality furniture for almost a century. Through the years our focus has always remained the same – understanding our customers' needs and crafting custom designed furniture that helps them live better. Each piece is made at our purpose-built Leicestershire workshops, using the finest quality materials and skilled, passionate craftsmanship. Always striving to do things better, we recycle all material offcuts and packaging – helping people live better, whilst doing our bit for the planet.
Need Inspiration?
Refine your vision for your home by booking a free design visit and source further inspiration from our magazine, free brochure or blog.