Fitted Living Colours
The secret to a comfortable and relaxing home? Interior design that expresses your personal taste. No one knows that better than us, which is why we offer a selection of colours to help you to tailor your living space with elegant, fitted furniture.
Find your aesthetic
You're unique and so is your home. You need a space that fits both — and that's the beauty of fitted living. With custom-built fitted furniture that makes the most of awkward living spaces, as well as your choice of a diverse range of colours, you're sure to create a space that matches your particular aesthetic.
Speak to our experts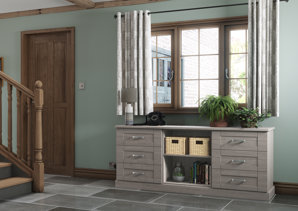 Ready to create an aesthetic that truly expresses you? Book a free design visit today. For any questions about the different fitted living colours available, simply visit your nearest showroom for a chat — our friendly team are more than happy to help. In the meantime, take a look at our blog for some inspiration.
Need Inspiration?
Refine your vision for fitted living by booking a free design visit and source further inspiration from our magazine, free brochure or blog.