Fitted Wardrobe Interiors
Our cleverly designed furniture comes with a choice of three wardrobe interior options. Our front frame system is perfect for maximising storage and awkward spaces offering wall-to-wall and floor to ceiling storage utilising every inch of space. Our fully lined interior offers a premium finish with the added flexibility of adjustable storage for your changing needs, each wardrobe is fully enclosed with a top, back and sides to create a sleek premium feel. Our aluminium interior is available with our sliding wardrobes collection and gives you ultimate contemporary look.
Interior Options
Your wardrobe interior system acts as the foundation to which your wardrobes are built, so it's important we get the choice right. Take a look below at the options available in more detail.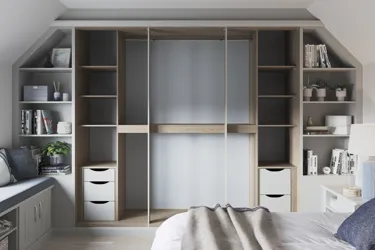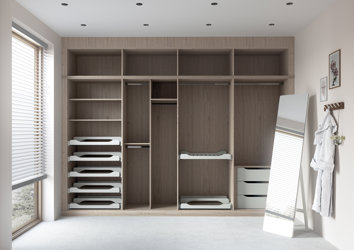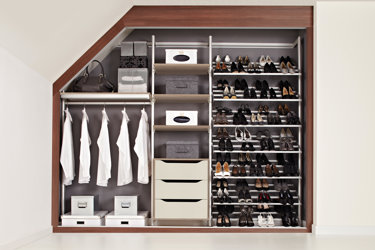 Premium Storage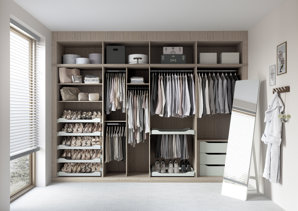 Many of our competitors don't offer this solution, but we think it's important to give our customers the choice. Our fully lined fitted wardrobe interior looks premium but doesn't cost any extra. Each fitted wardrobe is fully enclosed with a top, sides, back and floor protecting your clothes which ensures they stay fresh and dust-free. With the added benefit of backs, if you have unsightly walls, there's no need to decorate because our furniture will hide it all. You can also choose from our wide range of clever storage solutions, including interior drawers, glamour units and pull-out shoe racks. This system also gives you the flexibility to change your interiors as your storage needs change over time.
Front Frame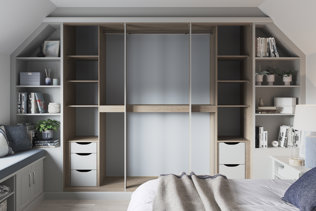 If space is at a premium then this really is the best wardrobe interior system for you. Our front frame system gives you wall-to-wall, floor to ceiling storage – maximising every inch of available space. Each wardrobe is completely open with no backs (so don't forget this wall will be on show when you open your wardrobe doors) to maximise the depth and no tops again to totally maximise the height of your room. Choose from an array of interior options from double hanging to shelving the choice is entirely designed around you.
Aluminium Stanchions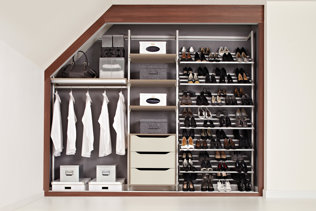 Our aluminium stanchion interior system is available with our Sliding Wardrobe collection, offering a spacious, modern look. If space isn't at a premium and you're looking for a more open and contemporary interior design then this could be the option for you. Choose from a wide selection of clever storage options such as floor to ceiling shoe racks which can house up to 70 pairs of shoes, drawer units and single and double hanging. Plus with the added benefit of flexibility as the stanchions can be easily adjusted to adapt to your changing storage needs.
Complete your room
Customise your Hammonds furniture
You're absolutely spoilt for choice when it comes to interior options, matching bedroom furniture and creating your dream dressing room. Those personal touches can make all the difference to make your room unique to you.