Wardrobes for Sloping Ceilings
Not all bedrooms are perfectly square. Some have quirky nooks and cranny's and sloping ceilings! For those unique spaces, we're here to help. At Hammonds, we have a wide range of wardrobes for sloping ceilings, allowing you to create all the storage space for your clothes and accessories you desire.
Innovative storage solutions
With careful planning and the help of our design experts, we can provide you with the perfect fitted wardrobes for your sloping ceilings, maximising your storage space and in a finished look and feel to match your décor. Looking for intricate and innovative storage solutions too? We have a range of shoe racks, low hanging rails and other pull out storage ideas to help you keep your space organised.
Tailor-made designs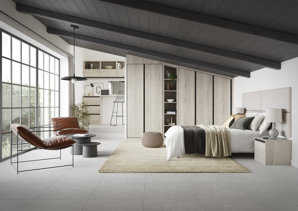 Whether you're searching for a traditional looking or more modern design, at Hammonds we have a whole host of options that can be tailored perfectly to you. Don't worry about losing storage space; our wardrobes for sloping ceilings will maximise your floor and storage space by working effortlessly with the natural shape of your bedroom.
Need Inspiration?
Refine your vision for your sloping ceiling by booking a free design visit and source further inspiration from our magazine, free brochure or blog.