Bay Window Seats with Storage Built In
Bay windows are a beautiful feature to any home. They are pleasing on the eye whilst providing your space with extra seating. Make the most by incorporating one of our specially designed bay window seats, bay window sofas or a bay window bench into your space.
Stylish storage solutions
Finding space in your room for those items you don't want on show can be hard, but our bay window seats with storage built in offer you that extra space you need, whilst remaining stylish and discreet. Bay window storage provides you with the perfect opportunity to gain extra space to suit you. Our expert team are on hand to give advice on different bay window storage ideas to suit your home, so you can find the perfect solution for you.
Find your perfect bay window seat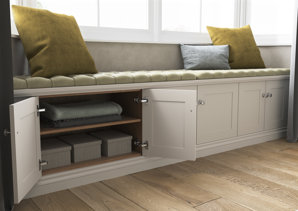 Need Inspiration?
Refine your vision for your bay windows by booking a free design visit and source further inspiration from our magazine, free brochure or blog.