Sliding Wardrobe Finishes
Create your perfect bedroom with a made-to-measure fitted wardrobe from Hammonds. Make the most of the space you have and turn your dreams into a reality. It's much easier to achieve than you might think thanks to our extensive range of sliding wardrobe finishes.
Bespoke finishes
You'll find that our selection of sliding wardrobe finishes caters for all tastes and personalities. From contemporary matt to natural wood, each sliding door finish that we offer is the coup de grace for any fitted wardrobe. After all, the finish is what shapes the statement your made-to-measure storage solution will make – whether it's intended to be noticed or be understated.
Rely on Hammonds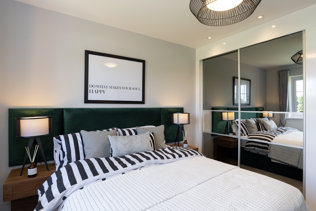 Each sliding wardrobe door finish from Hammonds is carefully designed, delicately crafted and expertly installed. For our team, it means nothing is left to chance. Drawing on our experience and the latest design trends, our goal is to bring all your ideas with sliding wardrobe finishes – always in tune with your way of thinking. From the initial designs to the end installation, trust us to deliver the bedroom of your dreams. After all, there's nothing like total peace of mind.
Book a free design visit
Our free home design visit is the key to creating clever, beautiful storage. Whether we're designing a clutter-free bedroom, an organised home office, or a calmer living space – our intention remains the same… How can we help you live better? From the moment we arrive we're listening to you, chatting and thinking about how we can cleverly design your space to meet your needs. We'll talk inspiration and style…Then we'll get to work – first measuring up and then bringing your room to life, tweaking and tailoring until your 3D design is just right.
Book a Free Design Visit
Need Inspiration?
Refine your vision for your sliding wardrobes by booking a free design visit and source further inspiration from our magazine, free brochure or blog.