Loft Wardrobes - Fitted for Loft Conversions & More
Whether you're currently renovating or already have an established bedroom, loft spaces can be tricky to find furniture for. With sloped ceilings and limited space, it's important to make the most of what you have available. At Hammonds, we have a range of loft wardrobes to suit every home.
Bespoke styles for you
In our collection, we have an array of loft storage ideas that could be the perfect fit for your attic bedroom. No matter how tight or awkwardly shaped the room may be, our team of experts will help to turn your loft bedroom ideas into a reality. Whether you like a smooth finish, traditional look, or something super modern, we have a collection to suit every personal taste.
Contemporary storage solutions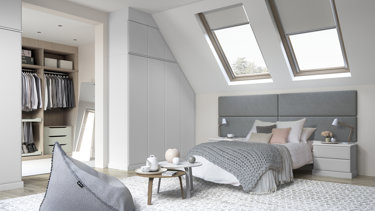 You shouldn't have to sacrifice on storage just because your bedroom is in the attic. With our innovative storage solutions, your new loft conversion wardrobes will be able to comfortably house your clothes, shoes and accessories. Thanks to Hammonds, you'll have the attic wardrobes of your dreams in no time.
Need Inspiration?
Refine your vision for your loft by booking a free design visit and source further inspiration from our magazine, free brochure or blog.