Fitted Living Finishes
When you come home after a busy day, you need a space that helps you to relax and wash away the stress. Décor plays an integral role in making this happen. Our fitted living furniture lets you pick the finishes that create a serene and blissful space.
A range of finishes
We have a variety of bespoke finishes from which you can choose. Do you like a bright and shiny environment? Try out our gloss finish. Prefer a more timeless aesthetic? Our wooden fitted furniture is built to stand the test of time, in terms of both durability and style. Whatever your preferred finish, you're sure to find the perfect option for your living space, right here in our selection.
Get in touch with our experts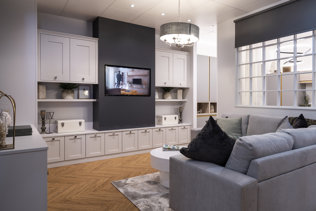 Want to learn more about how our custom furniture finishes can help you to create an idyllic living space? Our friendly team are ready to talk to you in your nearest showroom. Alternatively, fill in our contact from and we'll get in touch as soon as possible. If you'd like any inspiration between now and then, take a moment to browse through our blog or request a free brochure.
Need Inspiration?
Refine your vision for fitted living by booking a free design visit and source further inspiration from our magazine, free brochure or blog.