Home Office Furniture Finishes
Your home office should reflect your determination and commitment to success. That's why choosing the right home office finishes is so important. A cool, contemporary matt paint finish may suit some, while others will thrive in a sleek, high-gloss environment. With Hammonds, you can get the exact look you want.
Stylish office aesthetics
We appreciate how difficult it can be to choose the finishing you want for your home office – especially with so many options available. That's where Hammonds can help. Whether you are craving a wood finish or have your heart set on a painted home office in a modern hue, we can deliver what you want. We offer a range of services to assist you in making the perfect choice.
Why choose Hammonds?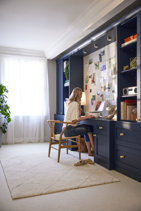 Book a free design visit
Our free home design visit is the key to creating clever, beautiful storage. Whether we're designing a clutter-free bedroom, an organised home office, or a calmer living space – our intention remains the same… How can we help you live better? From the moment we arrive we're listening to you, chatting and thinking about how we can cleverly design your space to meet your needs. We'll talk inspiration and style…Then we'll get to work – first measuring up and then bringing your room to life, tweaking and tailoring until your 3D design is just right.
Book a Free Design Visit
Need Inspiration?
Refine your vision for your home office by booking a free design visit and source further inspiration from our magazine, free brochure or blog.