Fitted Boot Room Cabinets
Whether they're coming in from muddy play in the garden or you're bringing your pooch back from a walk, boot room cupboards are perfect for getting cleaned off and for storing things away. Make the most of your space with some bespoke utility room cabinets from Hammonds.
Adapted to your lifestyle
An area that many long to have in their home, a boot or utility room is often one of the most used spaces in any house. No matter if you're putting the washing on, cleaning down the dog or need extra storage for tinned and dried food, having utility room storage cabinets created to suit your lifestyle can help to minimise chaos and clutter.
Intertwining practicality and style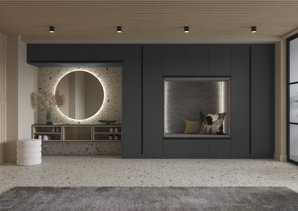 Need Inspiration?
Refine your vision for your boot room by booking a free design visit and source further inspiration from our magazine, free brochure or blog.