Tall Wardrobes for High Ceilings
We pride ourselves on maximising your wasted space. We offer a bespoke service that puts your needs at the centre of our design. If you have a space that feels lost in your bedroom, our tall wardrobes can change that, helping you fall in love with your bedroom once more.
Your dream bedroom awaits
Your bedroom should be a clutter-free haven, so rid yourself of unnecessary floor storage and take advantage of the space you will gain with one of our extra-tall wardrobes. Our specially designed tall fitted wardrobes allow you to create your dream space and instantly transform your room.
Bespoke styles for you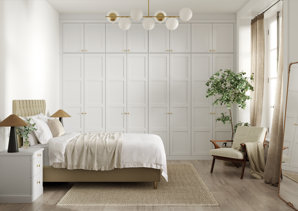 Make the most of your design and choose exactly what you want. We have a range of styles to suit your taste. From classic, contemporary, and easy living, you will never be without a style to complement your home. From the outside in, the choice is yours. You could have tall wardrobes with drawers, extra hanging space, wardrobes for high ceilings and so much more.
Need Inspiration?
Refine your vision for your tall ceiling by booking a free design visit and source further inspiration from our magazine, free brochure or blog.