Fitted Living Styles
When an interior's style matches your personal tastes, it's impossible not to feel at home. Here at Hammonds, we offer a wide variety of fitted living furniture styles — making it that much easier for you to find the perfect match.
Tailor your space
We appreciate that your home is as unique as you are. That's why we've come up with a selection of styles that complement different aesthetics. Whether you prefer contemporary, luxury or minimalist design, we've got fitted living furniture styles to match your tastes and can work to fit your exact space.
Timeless designs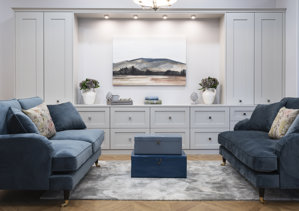 Elegant and functional, our built-in furniture embraces the best of both worlds. Enhancing the style and the volume of your living space, you'll be reaping the rewards of your purchase for years to come. And since we custom-build our furniture with expert workmanship and high-quality materials, they're built to last for generations.
Our experts are ready to help
Our free home design visit is the key to creating clever, beautiful storage. Whether we're designing a clutter-free bedroom, an organised home office, or a calmer living space – our intention remains the same… How can we help you live better? From the moment we arrive we're listening to you, chatting and thinking about how we can cleverly design your space to meet your needs. We'll talk inspiration and style…Then we'll get to work – first measuring up and then bringing your room to life, tweaking and tailoring until your 3D design is just right.
Find out more
Need Inspiration?
Refine your vision for fitted living by booking a free design visit and source further inspiration from our magazine, free brochure or blog.