Home Office Styles
Create the perfect bespoke home office with our extensive selection of home office styles. Achieve the perfect blend of style and functionality thanks to our meticulously crafted and endlessly innovative custom fitted home office styles. Get the look you want and get more out of working from home.
We've been creating fitted furniture solutions for years. We've learned the tricks of our trade and can cater to the most awkward of spaces. No matter where you want your home office to be – tucked under the eaves or in a cramped box room – from modern to traditional we can create fitted home office styles to suit. With a whole range of storage configurations, built-in desks, and adjustable bookcases, you are certain to find what you need with us.
Book a free design visit
Our free home design visit is the key to creating clever, beautiful storage. Whether we're designing a clutter-free bedroom, an organised home office, or a calmer living space – our intention remains the same… How can we help you live better? From the moment we arrive we're listening to you, chatting and thinking about how we can cleverly design your space to meet your needs. We'll talk inspiration and style…Then we'll get to work – first measuring up and then bringing your room to life, tweaking and tailoring until your 3D design is just right.
Book a Free Design Visit
Rely on Hammonds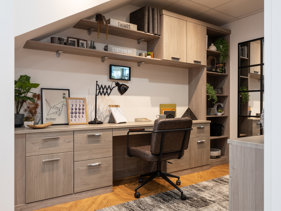 For more information about our home office styles, get in touch with our team or visit your nearest Hammonds showroom location to chat with one of our advisers face to face. If you are still in the process of collecting home office style ideas, why not request a free brochure? Then contact us when you're ready.
Need Inspiration?
Refine your vision for your home office by booking a free design visit and source further inspiration from our magazine, free brochure or blog.