Fitted Wardrobe Colours
Here at Hammonds, we know that your bedroom should reflect your individual style and personality, while also offering a space of calm for restful nights and lazy lie-ins. That's why we offer a selection of bedroom wardrobe colours that seamlessly complement your sleep space.
Something for everyone
We've worked hard to create a palette of bedroom wardrobe colours that offer a timeless aesthetic. With a wide range to choose from, there's a wardrobe colour to suit all tastes – not to mention all the final flourishes we offer to complete your sleep space.
Elegant designs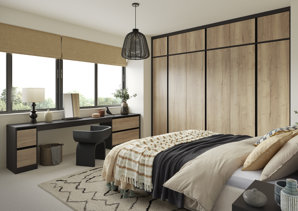 With crisp, contemporary lines and elegant details, the Elkin suite of bedroom furniture adds a touch of finesse. Looking to make a statement? Our Linje bedroom wardrobe colours are available in an array of finishes including Driftwood, Tuscan Oak and Anthracite. Perfect for those seeking to add texture and depth to their bedroom scheme. 
Need Inspiration?
Refine your vision for your bedroom by booking a free design visit and source further inspiration from our magazine, free brochure or blog.