2022 Interior trends
| Bedroom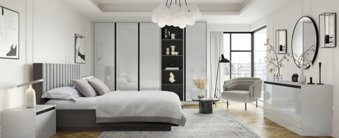 2022 trends: the best bedroom styles for this year
Many bedroom décor trends have remained popular year after year, but a few new styles have also come up in 2022. Nature has been a popular and lasting theme that flows through so many bedroom décor essentials, from colour to patterns and the materials people choose.
There have also been a few more niche trends so far this year, such as the oversized headboard and a focus on statement artworks. Let's explore the most popular bedroom décor ideas of 2022…
Colours inspired by nature
When we think of colours inspired by nature, we usually think green – maybe a cornflower blue or primrose yellow too. And all of those can look gorgeous in a bedroom. Think a bit harder, though, and almost every colour can be found in nature somewhere. So, if you like the theme but hanker for something more exciting, you have plenty of scope.
Maybe the best way to approach the nature trend is to choose a specific natural environment, say an exotic plant with bright flowers like an orchid, the muted tones found within shells or the lichen on trees, and keep to a very specific colour scheme.
Oversized headboards 
Headboards have been one of the key bedroom styles of 2022, which is great because they are an easy way to add some flair without having to spend a lot of money. Get yourself some fun fabric, wadding and a staple gun and you can do quite a good DIY job.
Patterned fabric can help make a statement, while plain velvet can feel luxurious. Otherwise, you could cheat this trend and use paint to create the same look. Add a block of colour to the wall behind your bed, like an arch or a thick stripe. It will have a pleasing geometric quality to it and add a touch of drama.
Detailed rattan headboards look set to remain on trend for a while too. They look lovely when paired with natural linen bedding. This brings us to our next point…
Natural bedding 
Gone are the days when we needed to iron our bed linen. Now the crumpled look is right on trend. Crinkly linens that have that all-day cosy and slept-in look are all the rage for those seeking a low-key luxury aesthetic. Natural fabrics in soft, muted tones evoke a feeling of calm and serenity – perfect for any bedroom. Never has bedtime looked more appealing.
Artwork at the forefront
Any interior-themed social media account will have at least a few images of a gallery wall. We love them. While they may have been around for years, the gallery wall has bred an obsession with affordable artworks. Whether it's an old exhibition poster, an Etsy lino print or a full-scale painting, artwork has been prevalent in 2022 bedroom décor ideas. Choosing your piece will depend on your budget but go as big and bright as you can.
Beautiful botanicals 
Houseplants are still going strong and many a home will have trailing vines, spikey cacti or even full-on trees growing from pots in the living room. People have fully embraced the trend for nature in the home and all the healing and calming properties it can bring to your life.
It doesn't stop at the plants, though. Foliage-inspired wallpapers and fabrics can keep the theme running all through the house, while statement pieces like a neon cactus or a pineapple-shaped lamp add a quirky touch.
Fitted storage space
One look that has never been in fashion is messy, even if many of us would like it to be. Clothes on the floor, unmade beds, piles of paperwork – it just doesn't work. Fitted storage space, such as a wardrobe or eaves cupboards, is our favourite bedroom style idea for 2022 because it helps make life easier.
When you have space to put your things, tidying up feels achievable and even fun. Our fitted furniture is made to measure, so we're not worried by whatever awkward spaces and strange angles you have in your home. You could also tie in the nature theme by opting for a wooden finish when you choose your materials.
Let Hammonds help keep your storage at bay
For help staying on trend this year, book a design visit from one of our experts. They will help you choose the right storage for your room so you can keep all the clutter at bay.
You bring the space, we bring the inspiration
Whether you have an exact vision in tow, or are just at the beginning stage of your home renovation, we have heaps of inspiration for you to get stuck into. 
Find a wealth of design tips, trends and inspiration in the pages of our brochure, magazine and on our blog. Our experts are always ready to help you create dream home, pop in store or book your free design visit for experts to help on bringing your vision to life.