2023 bedroom design trends you MUST use for your own bedroom
| Bedroom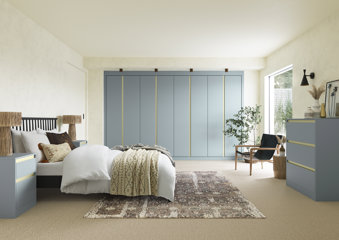 2023 bedroom design trends you MUST use for your own bedroom
If you're someone who loves to be on-trend in every aspect of your life, then you'll certainly count your bedroom as part of that goal. Just like fashion, what's popular in the home can change each year so, to help you to keep up, we've picked out some of the best bedroom trends that we've seen so far in 2023.
This year's interior styles are filled with spectacular colours, textures and accessories that will transform your bedroom into a stylish sanctuary that'll wow guests.
Some of these changes are small but impactful, while others are large and shift the entire vibe of the room. Check out our favourite 2023 bedroom trends below and start reworking your bedroom into a stylish haven today.
Statement lamps
Statement lamps are very much in this year and they look wonderful in a bedroom setting. These lamps are tall and will sit in the corner of your room to provide ambient lighting that sets a relaxing mood once the night draws in. The trend for this year is to choose a lamp that has an intricate design and is anything but ordinary. A statement lamp like this will become a focal point of the room; it will serve as the main source of light when you wind down at night.
Irregular rugs
Art is beloved for turning walls into creative masterpieces but, with floors taking up just as much space as walls, why not use them as another chance to show off your taste? The floor in your bedroom is a blank canvas, for which we recommend choosing a colourful rug with an unconventional shape. Bedrooms that adopt this 2023 trend add extra life and personality to truly make the room a reflection of your own style. What's more, rugs make rooms feel a lot more cosy and comfortable, which will help when you're looking to relax after a long day.
Golden tones
Take your bedroom décor to a whole new level by adding gold tones to it. Gold is back in 2023 and can add warmth and vibrance to your room. These tones can appear on your walls or simply be a small ornament on your bedside table. To really highlight one of 2023's favoured bedroom colours, you'll want to compliment them with furniture that matches the gold aesthetic. The painted fitted wardrobe collection from Hammonds is filled with excellent choices that can bring to life golden tones.
Bold borders
People tend to get hung up on the main colour of walls or doors around the home. This year, however, the focus is on the borders and trims instead. This is a fantastic way to add accents to your bedroom and can help to display clear lines, which is an important part of creating a perfectly proportioned room. They can also help to make architectural designs stand out and will add a unique edginess to the room.
Red earth ceramics
For years white ceramics have been a staple in interior design but 2023's trends show that red earth ceramics are now making a breakthrough. Adding ornaments like these to your bedroom makes it feel warmer and enhances the look with a stylistic edge. To get the most out of this 2023 bedroom trend, try placing them in different spots around the room. This will ensure that their presence is felt wherever you look.
Design your ideal 2023 bedroom with Hammonds today
Feeling inspired by these bedroom trends for 2023? Start revamping your room today and book a design visit with Hammonds for first-class advice from our team. Our experts can help you to design your dream bedroom based on the space that you have available to you and incorporate these incredible trends at the same time.
You bring the space, we bring the inspiration
Whether you have an exact vision in tow, or are just at the beginning stage of your home renovation, we have heaps of inspiration for you to get stuck into. 
Find a wealth of design tips, trends and inspiration in the pages of our brochure, magazine and on our blog. Our experts are always ready to help you create dream home, pop in store or book your free design visit for experts to help on bringing your vision to life.