9 bedroom finishing touches to make a space your own
| Bedroom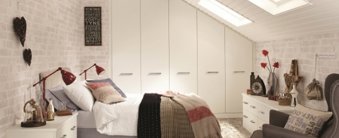 9 bedroom finishing touches to make a space your own
If you've had a new bedroom fitted and need to add those final flourishes, Hammonds guides you through some essential items you'll need.
Completing any renovation is a satisfying moment, but a new bedroom can give you a certain sense of fulfilment that few other spaces provide. Your sanctuary, your retreat, your safe haven – it's ready to welcome you home after a long day and recharge you for the next one.
But first, you will need to add the final flourishes that truly make it a space that's yours and yours alone. While functional elements are crucial in any bedroom, they must be married with fascination too. Here are some elements you can incorporate into your bedroom design to make it a unique area.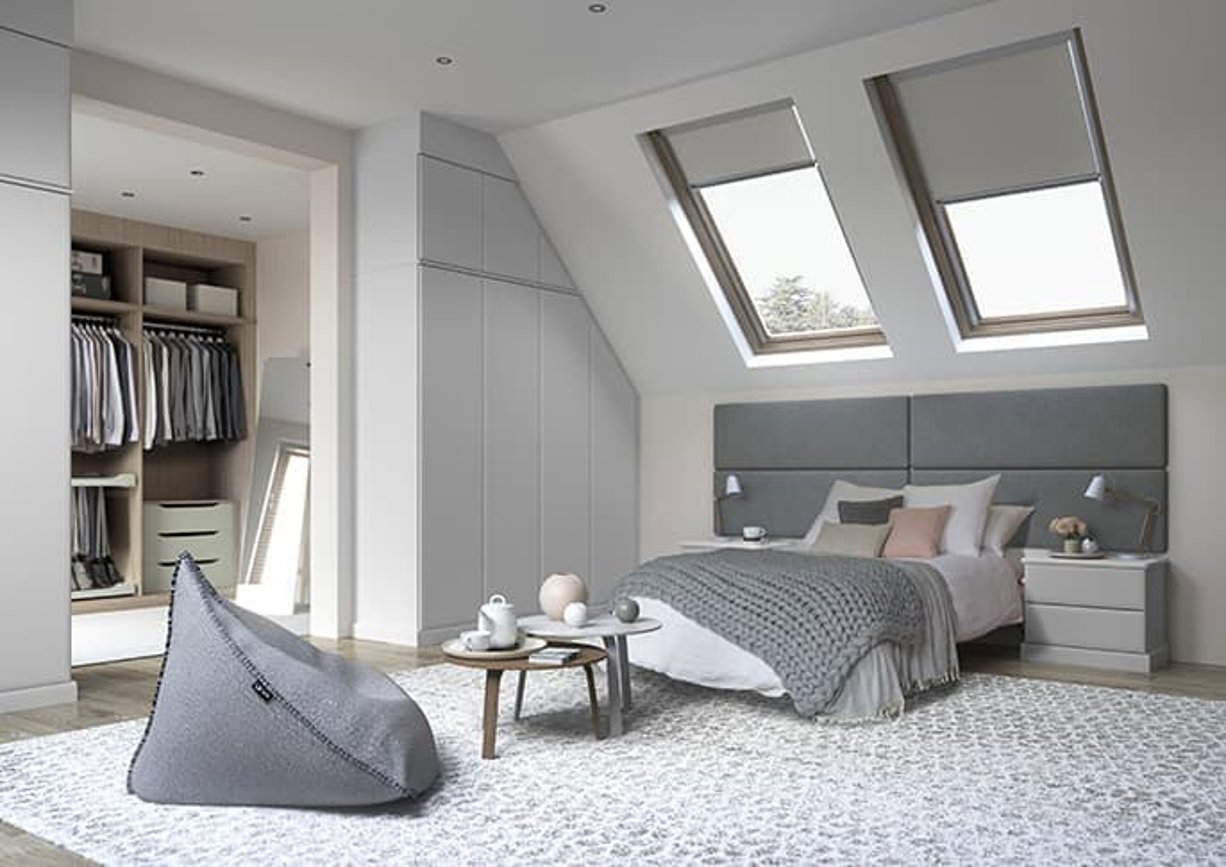 Art
There are few mediums quite as subjective as art. One person's masterpiece is another's mess, after all.
Have you moved away from your hometown and want to evoke a sense of your roots? Finding artwork that represents some of your favourite spots from home can do the trick. Or, if you're a film or music buff, add a touch of class to your favourite posters by framing them and hanging them proudly.
Nature
If you live in an apartment block, or another type of home with limited green space, bring the outside in by incorporating plants into your bedroom design.
There's strong evidence that getting green-fingered is good for your mental health, so don't miss out on those natural highs.
Make sure you find a collection of plants that are suitable for your space – you'll likely need some that are shade-tolerant – and enjoy the benefits!
Personal items
Photos of your favourite nights out, trinkets brought back from holidays abroad, mementos from time spent with your best friends. Having those little reminders of your beloved moments will give you a little boost when you need it, adding to the safety and security of your bedroom.
Find frames and pots that tie in with the overall bedroom theme and you will enjoy that calming sense of harmony as well!
Lighting
Lights can play a crucial role in setting the right mood in your bedroom as you get ready for sleeping, or whatever else it is you're up to…
If you share your space with a partner, having the option of a lamp each will allow you to read before sleeping if wanted and means the disturbance of your main light is not always needed. Cutting down your reliance on the big switch on the wall will also keep your bedroom a cosy and inviting area.
Seating
You'll want your bed to be as comfortable as can be, but it's not always the best place to perch.
Chances are your bedroom is the area you get ready in the mornings, and if you're applying those finishing touches to your look it may well be easier and more comfortable to take a seat while doing so.
Don't forget that the fabrics and colours of your seat can also play a major role in setting the mood of the room, so bear in mind the overall design.
Mirrors
Not just important for checking if you're looking your best before heading out the door, mirrors can be useful tools in bedroom designs.
You can use them to throw light across darker and smaller rooms, making them look bigger and more airy. If limited space makes introducing a floor-standing mirror difficult, you may be able to incorporate one into the design of your wardrobes.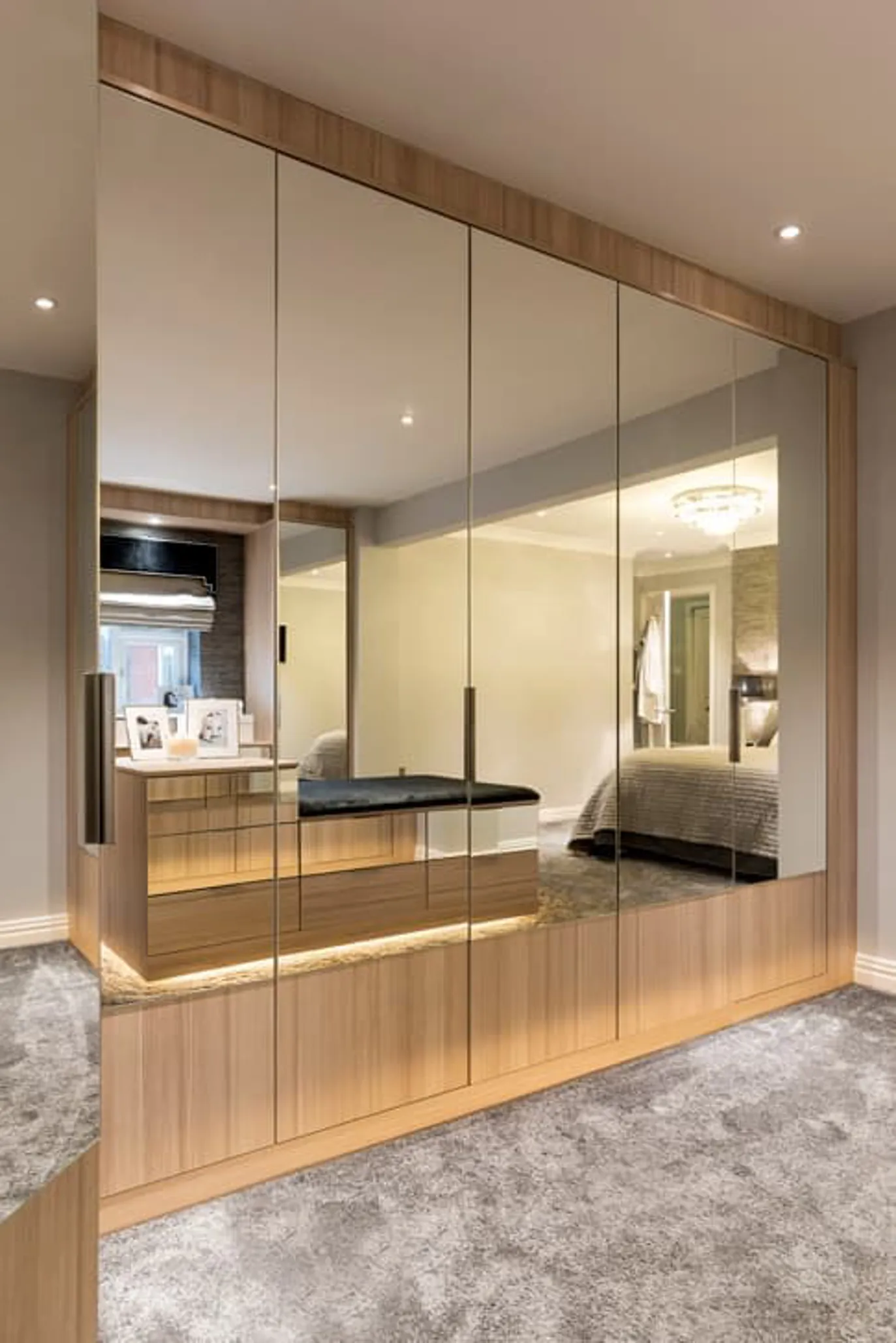 Rugs
Good for digging your toes into first thing in the morning as you stretch away the sleep, or for cushioning your footsteps as you make your way across the room.
Whether your bedroom is hard-floored or carpeted, introducing a rug is a great way to preserve the floor's condition.
Picking a certain fabric or colour is also the perfect way to add a bit of you, whether light and fluffy or tough and durable!
Wallpaper
Ideally, the colour of your bedroom walls will evoke feelings of calm and relaxation, but there is still room to express the more vivid sides of your personality too.
Picking a feature wall will give you the freedom to truly convey yourself without overpowering the soothing vibes needed in a bedroom.
Whether you go for a geometric pattern or a different kind of print, having a section that has your stamp on it will help make the space more personal.
Shelving
Finding the right storage for your bedroom is never easy, especially if you are working with a small or awkward room.
If floor space is at a premium, why not think vertically and let shelving take care of some of your storage needs. Adding box shelves with doors or baskets is a great way to stop them from appearing cluttered and spoiling the calming atmosphere.
Hopefully we have given you inspiration to add some of your character to your bedroom. The Hammonds range of bedroom finishing touches is another useful place to check, while you may benefit from a free design visit from our experts if you are still dreaming up your ideal sleeping space.
You bring the space, we bring the inspiration
Whether you have an exact vision in tow, or are just at the beginning stage of your home renovation, we have heaps of inspiration for you to get stuck into. 
Find a wealth of design tips, trends and inspiration in the pages of our brochure, magazine and on our blog. Our experts are always ready to help you create dream home, pop in store or book your free design visit for experts to help on bringing your vision to life.