A cake for a Royal celebration
|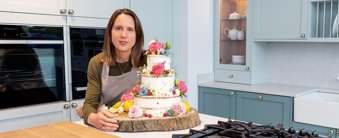 A cake for a Royal celebration
Frances Quinn, winner of the Great British Bake Off created a beautiful three tier wedding cake within Croft, one of our cool blue Shaker style kitchens.
We're so excited to celebrate the Royal wedding of Prince Harry and Meghan Markle, we couldn't resist but to invite Frances to make a special bake for the big day!  
Adorned with blossoming fresh flowers and covered with buttercream Frances' cake is similar in style to the proposed wedding cake that Prince Harry and Meghan Markle have requested, to be enjoyed with their friends and family on May 19th, their Royal wedding day. Peonies are known to be Meghan's favourite, a likely addition to their royal wedding cake, so these have been included in Frances' bake, accompanied by her famous yellow marzipan bees. 
Feeling inspired? Try the bake yourself with her vanilla cake recipe.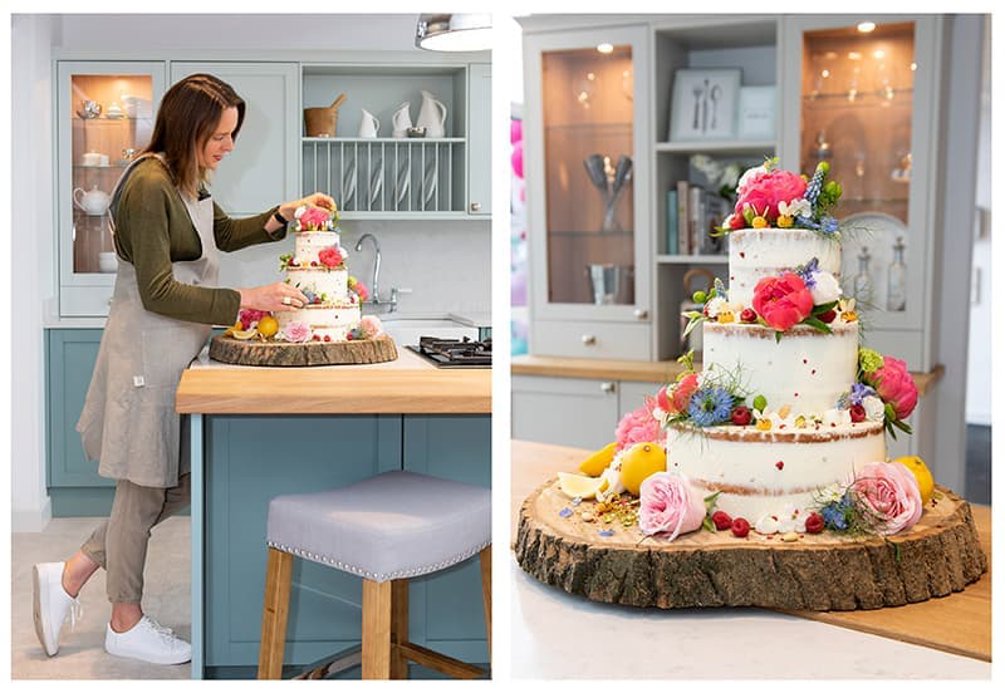 Ingredients:
50g butter, softened
50g caster sugar
1 egg (at room temperature)
1tsp vanilla extract
50g self-raising flour
1 tsp warm water
Method:
Preheat the oven to 180℃ / 160℃ fan / gas 4.
Using a hand-held electric whisk (it's tricky to beat this small quantity in a free-standing mixer), beat the sugar together for 5 – 10 minutes or until very light, pale and creamy. 
Break the egg into a mug or jug (this makes it easy and less messy to pour into the mixture). Add the vanilla extract into the egg and beat with a fork. Gradually add the egg to the creamed butter and sugar mixture, beating well after each addition. Should the mixture look like it's curdling, add a spoonful of the flour. 
Sift the flour into the cake mixture and fold in until just combined. Gently fold in the warm water, which will loosen the mixture and lighten the finished cake. You will now have a cake mixture with a soft drooping consistency – i.e if you take a dollop of it on a spoon and turn the spoon on its side, the mixture will drop off of its own accord. Scrape the cake mixture into a prepared tin and spread it out level with a spatula. 
Bake for 20-25 minutes or until risen and golden, and a skewer inserted into the center of the cake comes out clean with no damp cake mixture adhering to it. Leave to cool in the tin for 10 minutes before removing the cake and transferring to a wire rack to cool completely.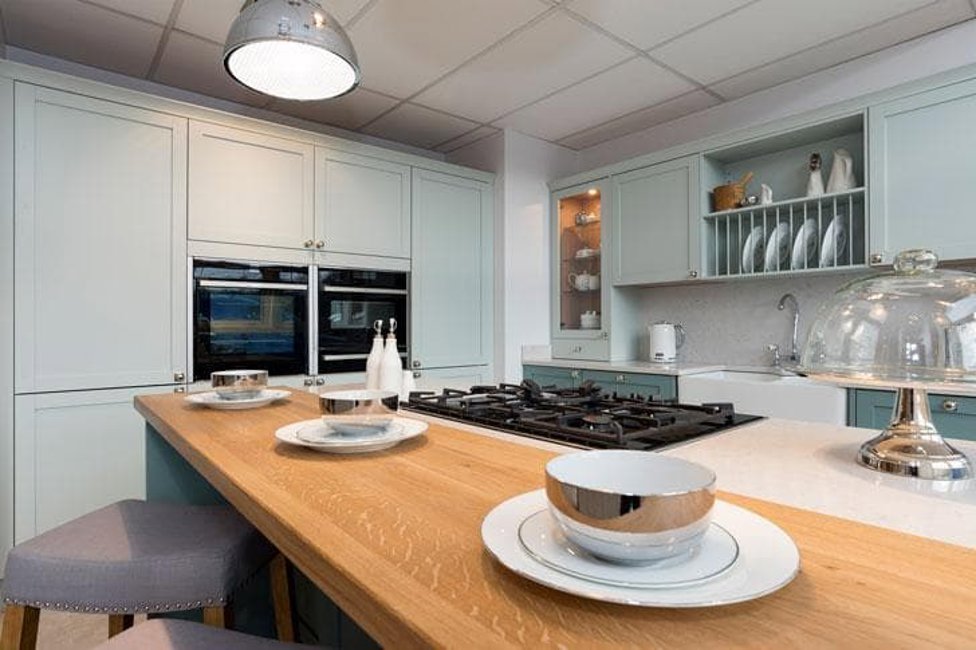 To Finish:
Add buttercream and jam to the centre and spread a thin layer of buttercream around the edge. To create a cake similar in style to the wedding cake that Frances created for Hammonds, adorn with fresh flowers. 
For more recipes like this and creative bakes from her collection, discover Frances' book, Quinntessential Baking. A beautifully bright book giving you bundles of baking inspiration from a well known GBBO face.  
This Shaker style Croft kitchen display can be found within our newly refurbished Nuneaton showroom, one of our collection of showrooms located in the Midlands and East Anglia that display kitchen fitted furniture. To find a kitchen showroom near you click here.
You bring the space, we bring the inspiration
Whether you have an exact vision in tow, or are just at the beginning stage of your home renovation, we have heaps of inspiration for you to get stuck into. 
Find a wealth of design tips, trends and inspiration in the pages of our brochure, magazine and on our blog. Our experts are always ready to help you create dream home, pop in store or book your free design visit for experts to help on bringing your vision to life.