A Day In The Life Of A Hammonds Upholsterer
|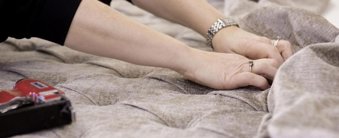 A Day In The Life Of A Hammonds Upholsterer
The upholstery studio is a creative, noisy and hardworking space. We felt it was only right to give a moment to Wendy, Hammonds in-house upholsterer and see what goes in to one of her days at work... 
Talented upholsterer Wendy LLoyd tells us about how upholstery went from a hobby to a vocation.
"I spent many years being surrounded by the craft as a young woman and it inspired me. I decided I wanted to take that career path, so when my children began full time education I started training professionally in upholstery. I began with a simple stool and worked my way up. I'm now upholstering all different types of soft furnishings including deep buttoned headboards, 5 sided material cube stools and much more".
What Do Upholsterers Do?
07:30 - This is when the upholstery studio opens which makes for an easier drive in with less traffic on the road. The first thing I do is put the kettle on and make a cup of coffee (milk no sugar). Over a nice hot drink, I print off the labels that will be assigned to the soft furnishings I will be making throughout the day.
08:00 - I catch up on emails and mark off all upholstery that was completed on the previous day.
09:00 - A latte coloured deep button headboard is first on the to do list! We have two benches in the studio, the foam bench to cut and secure the foam that sits under the material on the headboard and a cutting bench where material is measured and cut. I measure and cut foam carefully, making sure that the edges are smooth. Then I cut the material making sure the fabric is the exact size required so there's no waste.
09:30 - After I cut the material to the correct size I secure it to the backboard. I make the buttons for the headboard and then apply them onto the board ensuring they are deeply indented and all proportionate. The process from start to finish can take up to 4 hours.
09:45 - It's coffee time, to give my hands a break for 15 minutes then I carry on buttoning the headboard until lunch.
12:00 - It's lunch time! I love a sit down with my sandwich and recharge my batteries.
13:00 - The first headboard is nearly finished so I ensure that it's perfect before packaging securely, keeping it safe for its travels. Happy with my work I move onto the next job.
13:30 - Before I begin the next soft furnishing, it's time to check what materials are in stock and if I need to order anymore rolls of material for future jobs. There are lots running out today so I'll be making fabric orders for an hour or so!
14:30 - Next on the job list is a cube stool that is covered with material on five sides. This is intricate work and will take around 4 hours to make. I won't finish today; I'll start my day tomorrow completing this stool.
15:15 - At the end of each day, we need to make sure that the work station is clean and tidy for the next day. I hoover the studio and clear away any material and tools.
15:30 - After a successful day, I commence the 45 minute commute home. Once home, there is nothing I like more than putting my feet up reading a good book. At the moment I'm reading 'The world of cycling according to G' by Geraint Thomas.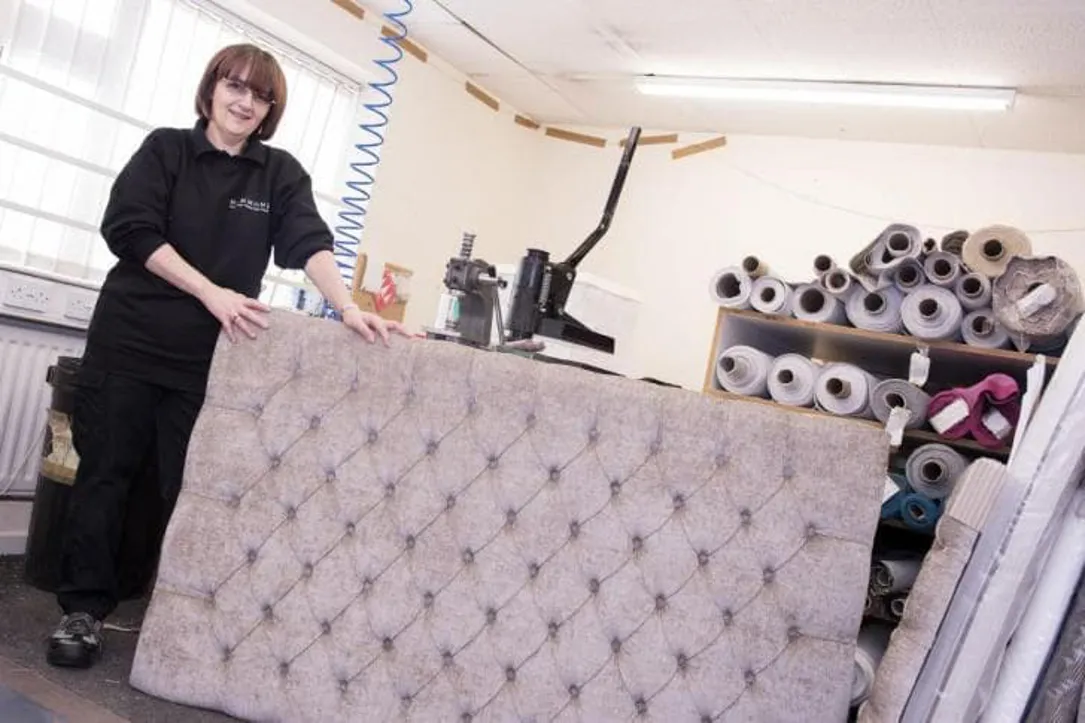 A big thank you to Wendy for sharing her craft with us.
You bring the space, we bring the inspiration
Whether you have an exact vision in tow, or are just at the beginning stage of your home renovation, we have heaps of inspiration for you to get stuck into. 
Find a wealth of design tips, trends and inspiration in the pages of our brochure, magazine and on our blog. Our experts are always ready to help you create dream home, pop in store or book your free design visit for experts to help on bringing your vision to life.