A new look for Spring: Four ways to refresh your home office
| Inspiration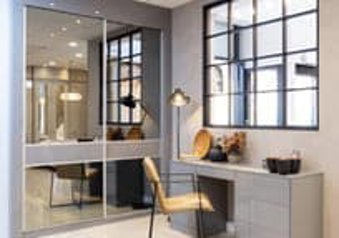 A new look for Spring: Four ways to refresh your home office
Spring is the perfect time to mix up your home office set-up to motivate and inspire you for the rest of the year. With hybrid working becoming the norm, make sure that your home working environment helps you to hit your targets and makes you feel happy too.
Along with a few of our own ideas for an office space incorporating great storage, we've outlined some of the latest interior trends to help with your seasonal home office refresh.  
Let the light in
With daylight hours slowly increasing, it's important to make the most of them and let as much natural light into your home office as possible. Maybe it's time to reassess where your desk is situated and see whether it can be placed closer to a window or underneath a skylight. As well as helping you to feel more connected to the outside world (instead of cooped up in front of a screen), accessing natural light offers you many more health and wellbeing benefits too.
When it comes to additional lighting, there are a variety of lighting types available to ensure a good balance in your office space, including spotlights, wall lights, and strip lighting. Task lighting is crucial where it's needed most, so why not treat yourself to a new desk lamp to enhance the light in a specific area?
Reorganise your storage
It's well known that a tidy working environment promotes healthy productivity, so keep mess and clutter to a minimum. Despite most of our work being online these days, paperwork, calendars, and other stationery still seem to accumulate around us as we carry out day-to-day tasks. 
With this in mind, it's worth considering whether fitted home office furniture might improve the way you work. At Hammonds, we offer a wide selection of fitted office ranges from classic, traditional styles to modern and contemporary. Everything is designed bespoke, so you can choose how many drawers, shelves, or cabinets you need, to ensure everything in your fitted office has its place. Plus, fitted office furniture can be placed in even the most awkward of spaces, making it a great option for small offices and those with unusual layouts.
Grab some greenery
Finding ways to connect with nature in your office space is associated with a more positive work ethic and increased motivation. Luckily, there are easy ways to forge these green home office connections, such as adding fresh flowers to your desk each week or finding a large houseplant to sit in the corner of your room. Not only will these plants and flowers add a pop of colour to your space, but they will fill the room with increased oxygen and filter out indoor pollutants, leaving you more refreshed and energised than usual.
Incorporate maps
Looking for office artwork inspo? Not only might a map make a lovely addition to your office décor but placing a few maps on the walls could help to motivate you.
While you're on a quick coffee break or waiting for the next Zoom or Teams meeting to start, you can think about your travel plans and be inspired to book somewhere new. Maps also look fantastic in the background of video conference calls, too, so expect some compliments to be coming your way!
Keep things stripped back
Lastly, simplicity can be a winner in spaces meant for concentration. When it comes to colour schemes, aim for neutral tones with one colour throughout. Pastel tones of green, yellow, or blue are all soothing hues that can help you to feel calm and relaxed, so opt for these rather than bold, loud shades that can only be distracting and stressful.
Keeping your work accessories eco-friendly can also be refreshing, so look for sustainable materials wherever possible. Whether that means a new jute rug, a wicker storage basket, or replacing a plastic desk with something wooden and sturdy, keeping your office beautiful, clean, and minimal is sure to help the day pass by more pleasantly.
Refresh your office storage with Hammonds' fitted furniture range
Be sure to book a design visit with one of our Hammonds' colleagues. They will help you to visualise the best fitted furniture to refresh your home office space for spring!
You bring the space, we bring the inspiration
Whether you have an exact vision in tow, or are just at the beginning stage of your home renovation, we have heaps of inspiration for you to get stuck into. 
Find a wealth of design tips, trends and inspiration in the pages of our brochure, magazine and on our blog. Our experts are always ready to help you create dream home, pop in store or book your free design visit for experts to help on bringing your vision to life.