A noodle recipe for the Chinese New Year
|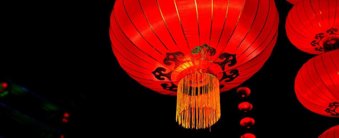 A noodle recipe for the Chinese New Year
Celebrate the Chinese New Year by cooking up a delicious oriental dish.
2018 will be the year of the Dog after the year of the Rooster for 2017. The Chinese zodiac symbol for Dog represents loyalty and honesty; the ancient zodiac says that people born in the year of the Dog possess these traits as well as being smart, friendly and have a strong sense of responsibility. To celebrate the Chinese New Year, we recommend this Vegan noodle recipe from Jamie Oliver. It's incredibly moreish and packs a punch of flavour. 
Ingredients
•    200 g thin rice noodles
•    300 g mixed oriental mushrooms, such as oyster, shitake and enoki, cleaned
•    2 cloves of garlic
•    1 fresh red chilli
•    1 thumb-sized piece of ginger
•    200 g courgettes
•    ½ bunch of fresh coriander
•    6 spring onions
•    groundnut oil, or vegetable oil
•    1 teaspoon cornflour
•    2 tablespoons low-salt soy sauce
•    1 tablespoon agave syrup
•    1 teaspoon sesame oil
•    ½ tablespoon rice wine, or dry sherry
•    100 g baby spinach
•    2 limes, to serve
•    sambal, or hot chilli sauce, to serve
Method
1.    Cook the noodles according to packet instructions, drain well, rinse under cold running water, then set aside. Finely slice or tear the mushrooms, leaving any smaller ones whole. Peel the garlic and deseed the chilli, then finely slice. Peel the ginger and trim the courgettes, then slice both into matchsticks. Pick the coriander leaves and set aside, then finely slice the stalks. Trim and finely slice the spring onions, reserving the green part for later.
2.    Heat a good lug of oil in a large wok over a high heat, then add the mushrooms and fry for 3 to 4 minutes, or until slightly softened. Add the chopped garlic, chilli, ginger, courgette, coriander stalks and the white part of the spring onions. Fry for a further 3 minutes, or until softened and lightly golden.
3.    Meanwhile, combine the cornflour and 2 tablespoons of water, then mix in the soy, agave syrup, sesame oil and rice wine or sherry. Stir the mixture into the pan and cook for a further 3 minutes, or until thickened.
4.    Roughly chop and add the spinach along with the noodles. Toss well to warm through, then tear in most of the coriander leaves. Serve with lime wedges, sambal or chilli sauce and the reserved coriander and spring onions scattered on top.
You bring the space, we bring the inspiration
Whether you have an exact vision in tow, or are just at the beginning stage of your home renovation, we have heaps of inspiration for you to get stuck into. 
Find a wealth of design tips, trends and inspiration in the pages of our brochure, magazine and on our blog. Our experts are always ready to help you create dream home, pop in store or book your free design visit for experts to help on bringing your vision to life.