Bay window bedroom ideas for your home
| Bedroom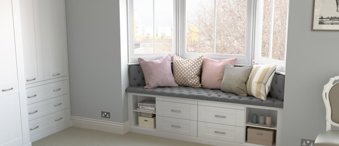 Bay windows are beautiful period features that give a bedroom character and charm. If you are lucky enough to have a bay window in your room, then you might be wondering about interesting ways to decorate it and get the most out it, both visually and practically.
Bay windows come in all shapes and sizes, so there is a bespoke solution for each. Here we explore the best bay window bedroom ideas to maximise their ultimate potential.
Install a window seat
Picture sitting by your window, gazing outside at the leaves falling or sun setting in the distance. It's a wonderful thought and also one which can be a reality if you opt to install a window seat in your bedroom bay window.
Whether your room overlooks gardens, hills or cityscapes, you can add a comfy pew, which is perfect for peoplewatching or practicing mindfulness when you need to take some time out.
Built-in bay window seats ensure that your window space is used seamlessly from edge to edge without any awkward gaps. They can be designed to fit any bay space and customised to your preferences and tastes.
The beauty of bay window seats is that they also offer storage underneath. Perfect for housing further books and magazines, or other bedroom essentials such as bed linen, towels and sleepwear.
Finish your window seat with cushions and a chunky throw to making it as inviting and warm as possible. Perfect for those long winter weekends.
Create a reading corner
Once you have your bay window seating area in situ, why not transform it into your own personal reading nook? Add some floating shelves either side of the bay and position a freestanding reading lamp adjacent for when you need extra light. Place a small table or stool close by to hold your drink of choice and settle in for a cosy reading session.
This idea also works great for children's bedrooms, creating a calm setting for them to enjoy their favourite books. The extra storage space under the bay window seat can be used for toys, clothing and bed linen too.     
Accentuate its shape
One you are committed to working with your bay window, you'll no doubt want to accentuate its natural shape, instead of trying to alter it. This way you will get the best out of the space and create a beautiful focal point in your bedroom.
This is easier said than done, however, and many of us are left wondering what to do with a bay window if we don't want to use it for seating or storage.
Choosing curved furniture pieces will accentuate the natural curved shape of the window, making sure its dimensions stand out. Although these pieces will be a little tricky to source, the results will be well worth the effort.
Curtains, blinds or shutters
Bay windows let in an incredible amount of light into a room, which you don't get with ordinary windows. Although this is fantastic during the day, curtains, blinds and shutters help to keep your bedroom relaxed and undisturbed when it's time to go to bed. They stop the natural light flooding in too early in the morning and help to regulate our circadian rhythm when it comes to time spent in restorative sleep.
There are many alternatives to choose from when it comes to window coverings. In general, made-to-measure products are much better for bay windows to ensure a neat and tidy look. For angled bay windows, blinds can be fitted into each section of the window. Roller blinds or sheer pleated blinds add a lovely ambience for when you want a small amount of light to come in, whereas Roman blinds add an extra touch of luxury and can be operated by a traditional cord or a chain drive mechanism. 
For contemporary bedrooms, shutters are a chic choice and help to create a peaceful Mediterranean feel. Choose larger shutter louvres to allow more light into your bedroom or smaller ones for privacy if your bay window faces a busy street.
Leave it bare
Having read all our bay window bedroom ideas, you may decide that you want to do nothing at all with the space!
If you want to let the window do most of the work itself and let in as much light as possible, painting the walls around the bay will help to draw attention to it as a feature. Keeping the surrounding space and decorations minimal will ensure it speaks for itself.
A simple floor lamp or tall green plant may be all you need to create your dream bay space.
Make the most of your bay windows with Hammonds
If you're looking for more inspiration on built-in bay window seats or storage solutions, then our Hammond's team are ready to help you. Book a free design visit today and unlock the potential of your bedroom bay window.
You bring the space, we bring the inspiration
Whether you have an exact vision in tow, or are just at the beginning stage of your home renovation, we have heaps of inspiration for you to get stuck into. 
Find a wealth of design tips, trends and inspiration in the pages of our brochure, magazine and on our blog. Our experts are always ready to help you create dream home, pop in store or book your free design visit for experts to help on bringing your vision to life.