Bedroom Décor Essentials
| Bedroom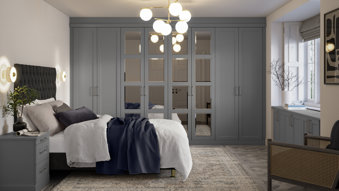 Bedroom essentials and must-haves
Are you thinking of revamping your bedroom? Or maybe you've moved house recently and are thinking of ways to put your own stamp on the space?
Whatever the reason for making over your bedroom, essential furniture and accessories are needed to make the room perfect. To help you introduce those must-haves to the space, without compromising on your own personal style, we've rounded up the key items you'll need to ensure you can make the bedroom work for you. More importantly, we want to make sure you can enjoy a good night's sleep.
Comfortable bed
A bed might seem like the obvious addition to a bedroom but taking the time to invest in a bed that's comfortable is crucial if you want to make sure that you get the best sleep possible.
You'll need to factor in the space you have before you go bed shopping. Is the room big enough to accommodate a queen- or king-size bed? Maybe you're renovating your guest bedroom and are on the lookout for a nice single or double bed? Consider the size you need and the space that you'll have left once the bed is in place before you buy.
You'll then need to consider the type of mattress you want. A good-quality mattress will not only promote a good night's sleep; it can also help improve your posture. However, there are more mattress options available than ever before, from ones that offer different levels of firmness to ones that hug your body in memory foam.
It can take time to choose the one that's right for you but this is time well spent. After all, a standard mattress should last you between seven and 10 years.
Once you have your bed set up, you can then think about other bedroom furniture essentials.
Bedside tables
Nightstands are both practical and pretty additions to a room. They're a place to add bedside lighting and an alarm clock, along with being functional storage solutions where you can stash your bedtime reads – especially if the bedside table also includes drawers or a door.
Aesthetically, they also add balance to a room, especially if you have matching tables on both sides of the bed. This can help to direct where the rest of the furniture in the room will go.
Storage solutions
As well as bedside tables helping to keep your bedroom clear of clutter, there are plenty of other storage options that should be considered essential bedroom furniture.
A chest of drawers and some shelves can be ideal for keeping your belongings tidy. However, it's worth starting with a wardrobe.
A bespoke fitted sliding wardrobe can be the perfect addition to a bedroom. Opting for sliding doors means that you can free up floorspace and, if you choose a wardrobe from Hammonds, it's possible to choose how they look on the inside as well. You can add shoe rails, drawers and even tie racks, keeping your clothing tidy and out of sight.
Soft furnishings
Your bedroom is your sanctuary so it's important that it's a cosy, inviting space where you feel comfortable. Keep everything soft here. Blankets, throws, decorative pillows and a plush rug can al help to make this space a welcoming room to which you'll want to retreat after a busy day.
When selecting these soft additions, make sure that you're choosing colours that make you feel at ease. Whether you love warm neutrals or you find blues and greens incredibly soothing, take the time to source cosy materials in colours that help you to relax and feel tranquil.
Décor
Consider the overall look and feel of the bedroom. As well as keeping colours calming, it's important that you remember that this is your space. Therefore, if you want to introduce your own decorative touches, spend some time deciding what you want to incorporate.
Do you want to hang some wall art, for instance? Maybe you have framed photographs that you want to put on display? Other personal touches might include plants, candles or storage boxes and baskets. All of this can bring the room together and make it totally yours.
If there's space
If you have additional space, here are some extras that can round off the room:
Lounge chair
If you love nothing more than curling up with a good book, a lounge chair placed in the corner of the room can make a wonderful finishing touch. You might want to choose a chair that continues the theme you've set, matching the current colour palette. Alternatively, you may opt for a pop of colour here, such as a jewel green or deep blue.
Dressing table
A dressing table is another piece of furniture that's nice to have. There are lots of different designs and styles available. Take your pick from simple designs and ones with hidden storage in the seat and drawers.
Add to your must-have list with Hammonds
It might seem obvious, but you're likely to spend more time in the bedroom than anywhere else in a house – so it's well worth taking the time to set it up just right. Especially if you're starting from scratch, a little expertise goes a long way to making the most of the space.
If you're ticking off your list of bedroom furniture essentials and need a helping hand with adding fitted furniture, we can help. Book a free design visit with our team of experts today to make your vision a reality.
You bring the space, we bring the inspiration
Whether you have an exact vision in tow, or are just at the beginning stage of your home renovation, we have heaps of inspiration for you to get stuck into. 
Find a wealth of design tips, trends and inspiration in the pages of our brochure, magazine and on our blog. Our experts are always ready to help you create dream home, pop in store or book your free design visit for experts to help on bringing your vision to life.