Bedroom decor ideas for a cosy Autumn aesthetic
| Bedroom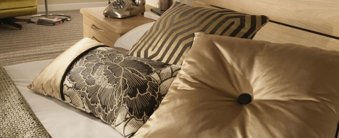 Bedroom décor ideas for a cosy autumn aesthetic
As the days get chillier and the nights draw in, it's time to get cosy at home. Our bedrooms are where we spend a good chunk of our relaxing time, so it's important to get the aesthetic right to correlate with the season and feel as comfortable as possible.
Below we have 5 autumn bedroom décor ideas to give you some interior inspiration for this snug season.
Infuse autumnal colours
We know how important it is to connect with nature whenever possible, so while the outside world is turning yellow, orange and brown, why not channel similar vibes in your bedroom?
Cosy autumn bedroom décor is all about finding colours that make you feel calm and comfy, though, so opt for muted shades like terracotta oranges, burnt yellows and beige browns to create a more soothing space.
You can introduce colour with your bedding, soft furnishings, artwork and floor rugs, so it doesn't have to be a full decoration job to get the right effect. 
Throw on some blankets
Cosy wouldn't be cosy without some soft layers to keep you warm. A thick throw or a knitted blanket can make your bed look so much more inviting. Perhaps you could replace your current sheets or duvet with a thicker alternative to ensure you are achieving the perfect temperature for a good sleep now the nights are getting colder. Natural fabrics are always the preferred choice for keeping snug, so opt for 100% cotton or wool accessories wherever possible.
Layer pillows and cushions
There's nothing better than snuggling up on an autumn night with a mug of cocoa and a good book. So, make sure you are reading-ready with a good range of soft pillows and some squidgy cushions to lean up against.
You might even want to create a separate reading nook in one corner of your bedroom if you have space to do so. A soft beanbag, a couple of scatter cushions and some glowing fairy lights are all you need to make yourself a cosy corner to chill in on those dark evenings. 
Keep things tidy
The art of keeping a cosy autumn aesthetic in your bedroom includes keeping clutter to a complete minimum, with all belongings stowed away in their own place out of sight. And, when finding the balance between comfort and tidiness, it helps to have clever storage solutions built into your bedroom.
Built-in bedroom furniture ensures that you use up every inch of available space, leaving you with enough storage for clothes, shoes, accessories, sports equipment and toiletries. So, if you're struggling to find a home for an increasing amount of bedroom attire, take a look at our range of fitted wardrobes for some interior storage inspiration.
Finish with candles and lovely scents
Our autumn bedroom décor ideas wouldn't be complete without some important finishing touches to capture your senses.
Candles create a glowing ambience that's hard to beat with alternative lighting and can be placed around your bedroom to set the mood for a peaceful slumber. When it comes to scents for autumn, look out for cinnamon, vanilla, pumpkin and sandalwood – all of which conjure up a homely autumn atmosphere.
If you don't want to burn candles in your bedroom, you can still achieve the same aromas with plug-in diffusers or natural reeds in your chosen fragrances.
Hammonds can help with your autumn storage
When it comes to helping you to transform your bedroom into a calm and cosy space, we have many years of experience. We've helped thousands of customers maximise space in their bedrooms, leaving them with a clutter-free and comfortable space to relax and put their feet up after a long day. Get in touch today to book your free Hammonds design visit.
You bring the space, we bring the inspiration
Whether you have an exact vision in tow, or are just at the beginning stage of your home renovation, we have heaps of inspiration for you to get stuck into. 
Find a wealth of design tips, trends and inspiration in the pages of our brochure, magazine and on our blog. Our experts are always ready to help you create dream home, pop in store or book your free design visit for experts to help on bringing your vision to life.