Bedroom décor trends for 2023
| Bedroom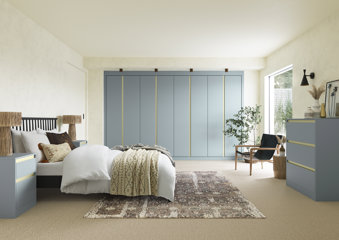 The latest bedroom trends for 2023
With summer well underway, it's the perfect time to breathe new life into your bedroom décor. Whether you've been planning on ditching the grey for a while or simply want to revamp the space, you can get all your design inspiration here.
We've rounded up some of the top bedroom trends for 2023 that will help you freshen things up and bring your bedrooms bang up to date. Read on for styling and furniture ideas that will empower you to give your bedroom a dream makeover.
Natural materials
Living sustainably is at the forefront of many people's minds right now, with more and more homeowners prioritising environmental awareness when it comes to decoration. From selecting eco-friendly paints to investing in upcycled and preloved furniture, there are plenty of ways in which people are making greener design decisions.
One of those is the increasing popularity of incorporating natural materials into every room, although these materials lend themselves to the bedroom in particular as this is a space that's designed to promote tranquillity. Therefore, by having natural elements like wooden shutters, linen bedding, and plants adorning the shelves, it's possible to tap into this trend. The aim is to curate an all-natural aesthetic.
You might want to enhance these natural materials by adding a splash of green to the walls. Green has been a trending colour for a while now but, this year, it's morphed into an earthier shade and works beautifully in bedrooms that embrace natural materials like wood and cotton.
Colour pops
While the bedroom is your sanctuary, where you want to feel relaxed, adding a pop of colour can lift the space and make you feel motivated when you get out of bed. To tap into this trend, keep walls neutral and then you can bring splashes of colour into the space.
You might want to introduce a vibrant yellow chair to the room or invest in a rug in a rich red – perhaps in something like Viva Magenta, Pantone's Colour of the Year? Whether you want to choose brightly coloured trending shades or simply love the colour orange and are keen to add bursts of tangerine tones in your bedroom, begin with one piece to act as a focal point and build from there.
Statement headboards
Typically, the bed is the focal point of any bedroom and a headboard can be the perfect finishing touch. However, in 2023, the headboard has become the star attraction. There's a trend towards bold, attention-grabbing designs that draw the eye from the moment you step into the room.
From opulent, 70s-inspired scalloped edges and vibrant striped styles to oversized headboards that take up most of the wall, this is your chance to be as dramatic as you want. It's a particularly ideal addition if you're updating a smaller bedroom and you need an alternative to wall art. A striking headboard can add character without making the space look too overcrowded.
Laidback luxury
First seen on catwalks, laidback luxury is a trend that has now moved from fashion to home interiors. It is the perfect bedroom décor trend, thanks to the palette and styling it brings. This is effortless luxury, where everything is cosy and homely while also being chic and sophisticated. Think rich materials and fine textures in warm neutrals, complemented by splashes of deep reds and dusky pinks, along with marble highlights.
To add another sophisticated touch, choose fitted furniture. This will help to free up floorspace and the designs available can slot right into this laidback luxury aesthetic. Choose fitted wardrobes in a homely creamy tone or warm beige and neatly slot your belongings into place.
Glass lighting
Another nod to eco-friendly living, glass lighting is a huge trend right now. Interior designers are increasingly making informed decisions about where their materials are sourced, and statement glass lights have become a go-to choice in the last year. As well as looking pretty, glass allows the light to flow more freely, changing the look and feel of the room.
Take your pick from different types and styles of coloured glass. You might want to begin with the lighting and design your bedroom from there, or you might decide to search for glass that plays into your desired look. For instance, if you're aiming for laidback luxury, a dusty pink glass light or one that's in a deep brown can be the perfect addition to the space.
Soft curves
Bedroom furniture trends this year are softer than before. Sharp angles and parallel lines are making way for rounded edges and curved corners.
If you're introducing a statement headboard, opt for arched designs that encircle the bed. Meanwhile, circular nightstands add a soft touch to the room, relaxing the space and making it feel like a peaceful retreat away from hard lines and angles that are used in other parts of the home.
Design your dream bedroom with Hammonds
At Hammonds, we specialise in creating and installing bespoke fitted furniture – and we've got the know-how to incorporate the hottest design trends of the moment into your space.
If you have an idea for your effortlessly chic bedroom or are tapping into the latest bedroom décor trends and need a helping hand with adding fitted furniture, our team can talk to you about what you have in mind. Book a free design visit with our team of experts today to find out how we can help make your dream bedroom a reality.
You bring the space, we bring the inspiration
Whether you have an exact vision in tow, or are just at the beginning stage of your home renovation, we have heaps of inspiration for you to get stuck into. 
Find a wealth of design tips, trends and inspiration in the pages of our brochure, magazine and on our blog. Our experts are always ready to help you create dream home, pop in store or book your free design visit for experts to help on bringing your vision to life.