Bedroom design ideas for couples
| Bedroom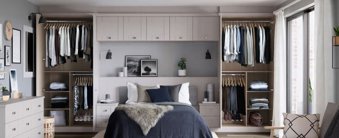 A room for two: how to design a bedroom that suits you and your partner
Your bedroom should be a place where you feel calm, cosy, and relaxed. But what if you and your partner have different ideas about what that looks like in a bedroom décor?
Finding a bedroom style that works for both you and your other half might seem like a difficult task, but with a few helpful tips and a bit of compromise, you're sure to find a couple's bedroom décor that meets both your criteria to perfection.
Choose a style you both like
The easiest way to choose a bedroom style that you both like is by doing some research together. Plan in a time when you can both sit down on the sofa and scroll through some interior design websites or Pinterest boards for inspiration.
Immediately reject the styles that either of you really dislike and put a star next to those which both of you agree that you like. This should help you to drill down to a shortlist of décor ideas that you would both be happy with in your bedroom.
From there, you could individually rate the shortlisted styles from 1-10 – ultimately selecting a style that both of you hopefully have within the top three!
Opt for a neutral colour scheme
Choosing a neutral colour scheme will make it easier to blend both of your individual styles. This doesn't mean you have to choose plain white walls, although shades of white do look great to create a light and airy bedroom space. Muted shades of soft green, peach or beige work just as well, giving you plenty of options to accessorise with furniture and bedding that is muted and complementary to the walls and ceilings.
Bold colours are best avoided in the bedroom anyway, so opting for neutral bedroom décor will ensure you create a harmonious haven to share together.
Build in ample storage
Sharing a bedroom means that you must also share storage space. And, if you both have an equal amount of clothing and accessories, then you are going to need some good bedroom wardrobes!
Fitted bedroom wardrobes ensure that every possible inch of space is used effectively, meaning there is no dead space remaining. Made-to-measure, fitted wardrobes offer the options to customise your storage effectively. So, if one of you has more shoes than the other, or needs more hanging space, then this can be accounted for in the wardrobe design. Another benefit of bespoke bedroom wardrobes is that you can select colours, finishes and accessories.
Clutter is never a good look, and with two people in one room, there'll be twice the mess to deal with if you don't keep it in control. Invest in a good laundry bin for your room to be sure to keep your floor clothing-free, as well as finding good bedside tables to store all your individual possessions.  
Choose a focal point you both love
With a neutral colour scheme as the base for your couple's bedroom décor, you have endless possibilities when it comes to personalisation. Adding a focal point is a great way to find common ground with your partner and gives you the opportunity to be creative together.
You could spend a weekend browsing art galleries for a piece of artwork that means something to you both or visit some local antique fairs or auctions if you fancy something vintage or ornate. Alternatively, for the ultimate symbol of togetherness, you could put together a wall collage of images and photos of all the places you have visited together as a couple.
Let us help create your shared bedroom space
At the end of the day, decorating your bedroom together should be a bonding and fun experience. We hope you've enjoyed reading our bedroom décor ideas for couples and managed to find a style that suits you both.
If you are ready to make the next step in creating your bedroom design, we would love to hear from you to assist with all your bedroom storage needs. Simple book a free design visit online to begin the process of creating your dream couple's space.
You bring the space, we bring the inspiration
Whether you have an exact vision in tow, or are just at the beginning stage of your home renovation, we have heaps of inspiration for you to get stuck into. 
Find a wealth of design tips, trends and inspiration in the pages of our brochure, magazine and on our blog. Our experts are always ready to help you create dream home, pop in store or book your free design visit for experts to help on bringing your vision to life.