Bedroom storage ideas: How to maximise your space
| Inspiration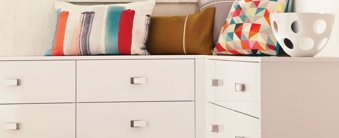 Bedroom storage ideas: How to maximise your space
If you're looking for bedroom storage ideas and want to maximise your entire space, look no further. The ideal bedroom is a place where you can unwind and feel comfortable, with clear space and surroundings to help you feel calm.
This guide will explain how you can use storage solutions effectively to free up the space in your bedroom, allowing you more room to relax and recharge.
Use multiple types of storage
If you have lots of items, it might be that a single storage solution doesn't allow your bedroom to reach its full potential.
Using a combination of various types of storage will help you take advantage of every inch of space your bedroom has to offer. This will also allow you to get creative, using the various nooks and crannies of your room to store away your belongings effectively.
Store under your bed
When it comes to storage space ideas for your bedroom, using the area underneath your bed is an easy way to gain extra stowing space. You can get a divan, an ottoman or install roll-out drawers to store clothes under your bed stylishly and practically.
Divan beds are incredibly popular, helping you achieve optimum space and comfort. They're designed to include storage drawers within the base and are perfect for those smaller bedrooms.
However, you can also use the space more creatively. For example, you could store books upright under your bed – just like a bookshelf. You won't need to go far to grab your evening read, plus you'll free up space on the shelves elsewhere in your room, making it easier for you to store other items that need a new home.
Install floating shelves
Floating shelves are super easy and simple to install yourself. All you need are some stylish planks and some wall brackets and you're good to go. You can use them on the walls to hold books and other items that take up space in your bedroom.
Alternatively, install them at waist height as a modern replacement for a bedside table. This provides a minimal look and offers space underneath for storage baskets or containers.
They can also be used as an entry table by your bedroom door, or even a laptop desk, meaning you can remove any bulky furniture that's taking up space in your bedroom.
Use your windowsills
Windowsills are basically built-in shelves that you don't have to buy or assemble yourself. Make the most of them by using them to store books, plants, small mirrors and more.
This will not only free up the space on your floor and overcrowded shelves and cabinets, but it will also enhance your window view. People often tend to store items on their windowsills that are decorative or that they don't mind having on show. By keeping books on your windowsill, you won't have to invest in a bookshelf, which will more than likely take up a lot of your space.
Invest in a fitted wardrobe
The best bedroom storage is simple and minimal. If you're looking at how to make more storage in your bedroom, a fitted wardrobe will provide you with an ideal place to get clutter out of sight. It will ensure that there's no wasted space due to awkward angles or the unique requirements of your bedroom.
Unlike free-standing wardrobes, they can be made-to-measure to fit perfectly in your bedroom with no wasted gaps. You can remove the fear of your free-standing wardrobe either being too big and overpowering in your room or too small that you won't fit enough items in it. With fitted furniture, you can maximise the use of the available space.
Free up space with Hammonds
If you simply cannot wait to maximise your space and create the bedroom of your dreams, book a free design visit with Hammonds today and find out how fitted furniture is the perfect small bedroom space storage solution for you.
You bring the space, we bring the inspiration
Whether you have an exact vision in tow, or are just at the beginning stage of your home renovation, we have heaps of inspiration for you to get stuck into. 
Find a wealth of design tips, trends and inspiration in the pages of our brochure, magazine and on our blog. Our experts are always ready to help you create dream home, pop in store or book your free design visit for experts to help on bringing your vision to life.