Bedroom wall ideas
| Inspiration, Bedroom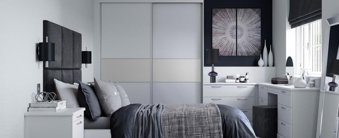 Update your bedroom walls with some of these ideas from Hammonds.
9 bedroom wall ideas from décor to storage
Are your bedroom walls looking a little bare? Maybe you're happy with how your furniture looks, but the walls need some TLC?  
If you're ready for a refresh and want to know how to decorate your bedroom walls, read on for ideas and inspiration.
Art gallery
Gallery walls have become increasingly popular in recent years. This display of multiple framed works looks great in a range of spaces. However, as it's an exhibition of your favourite pieces, it's a reflection of your individual taste and so works especially well in the bedroom – a truly personal space.
To create a bedroom gallery wall, start with a theme. Select pieces that have a similar colour or design style but try to mix them up. Interior designers tend to recommend opting for an odd number of pieces.
Next, lay them on the floor. Space them all out and move them around until you find a layout that you're happy with. When you're ready, mount them to the wall. You can then add to this as you come across more interesting prints or pieces that could work well.
Mirrors
Mirrors are a simple yet striking bedroom wall décor idea. As well as being an elegant and functional addition, they're a useful tool for introducing light into a room. Whatever size bedroom you have, a well-placed mirror can create a sense of space and light.
They come in many shapes and styles. You may want to apply a series of small circular mirrors across your wall or invest in one large statement piece that doubles up as a piece of art. Take your time to assess your current theme and search for a mirror that will perfectly complement the décor.  
Built-in storage
If you'd like to free up floorspace, consider swapping out your freestanding wardrobe for a built-in version. Fitted wardrobes are a practical storage solution, and they also solve the problem of having to make a bare wall more interesting.   
Additionally, if your wall is an awkward shape, such as in a loft or if there's an alcove, investing in built-in furniture can be the ideal bedroom wall storage idea. This is because furniture designers will know how to make the awkward parts a feature or allow the recesses to become additional storage space.  
Murals
If you're feeling artistic, you could try transforming your bedroom wall into a mural. Perhaps you could add a mountain scene or paint a flower-filled meadow.
Not feeling that brave? Research local artists and hire them to create your dream mural. They'll talk to you about the ideas you have and show you what they have in mind before transforming your bedroom wall into something special.
Panelling
Should you like traditional bedroom wall ideas, panelling could be perfect for you. While this is associated with period homes, it also works in contemporary spaces.
You may want to introduce stylish oak panels that run halfway up the walls, or you might decide to introduce ribbed and painted white planks that run from floor to ceiling to open the space up. Look at the décor you have already and decide how you'd like the panels to look from there.  
Wallpaper
Of all the bedroom wall décor ideas, wallpaper feels the most permanent. But it doesn't have to be. There are different removable wallpaper types that can be switched and changed with the seasons.
So, take a look at the patterns and designs available to see what suits your current mood. When you're ready, swap this out for another style.
Open shelving
Like the bedroom gallery wall and mirrors, shelving can become an art space. Pick out the type of shelving that suits the wall, whether you want to add wooden shelves or brightly coloured ones.
Then you'll need to decide where you want them to sit. You can opt to stagger them in a steps effect, slot them into the corner of the walls or sit them in alternating positions. When you're happy with how they look, think about the accessories and items that you'd like to place on them, carefully curating the display.
Textiles
For something different, try hanging a tapestry or a brightly coloured rug on the wall. This can either complement your current colour scheme or completely contrast the existing palette to transform this wall art into a statement piece.
Blank space
You could keep your bedroom wall free of any artwork or clutter, making it a minimal space. This can be especially effective if the rest of your room has different colours or contrasting styles.  
By leaving this as an open space, you create a fantastic blank canvas for projecting a movie onto.
If you're working on a bedroom project, speak to the Hammonds team. When you book a free design visit, we'll talk you though our ideas and show you how your bedroom could be transformed.
You can also find further guides on the Hammonds blog.
You bring the space, we bring the inspiration
Whether you have an exact vision in tow, or are just at the beginning stage of your home renovation, we have heaps of inspiration for you to get stuck into. 
Find a wealth of design tips, trends and inspiration in the pages of our brochure, magazine and on our blog. Our experts are always ready to help you create dream home, pop in store or book your free design visit for experts to help on bringing your vision to life.