Bespoke bedroom furniture for mobility issues
| Bedroom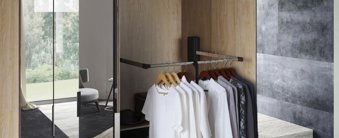 Bespoke bedroom furniture for mobility issues
Your bedroom should be a sanctuary. Somewhere for you to escape to, where everything is hassle free and just works.
But the perfect bedroom (no matter how beautiful) can easily be spoiled if it doesn't take your personal needs into account, and if you have mobility issues it might feel like the bedroom is working against you.
With over 13.9 million people with disabilities in the UK, and mobility being one of the most common impairments (52%), it's important to consider adaptations, allowing freedom and independence in your own home.
The bedroom is where we get ready for the world. With a few simple tweaks, you can create an accessible bedroom design. Here at Hammonds, we believe in making your life easier, so we've put some design tips together to help make your bedroom work for you.
Creating a wheelchair accessible space
"For most people, their bedroom is a personal sanctuary. For a wheelchair user, their happy place also needs careful planning to be accessible. Having a doorway that's not only wide enough to pass through but allows a wheelchair user to get to the door handle from either side with ease is really important. Once inside, manoeuvrability is equally critical. It's about more than just the size of the room (though a minimum of 13.5m2 does apply), a thoughtful layout can help make things like wardrobes and desks or dressing tables fully usable. Being able to get to the window to open and close curtains and the ability to reach plug sockets easily all play a role in making the room a comfortable and relaxing space." - Fara Muneer, Head of Business Development, Centre for Accessible Environments.
Save up for a large comfy bed but also consider the height of your mattress. Your mattress should be level with your wheelchair cushion, for ease when getting in and out of bed. Don't forget to make sure there is enough space on either side of the bed, so you can move around comfortably with your wheelchair. You may want to consider sliding wardrobes as they can maximise the space in your room and minimise obstruction to your space.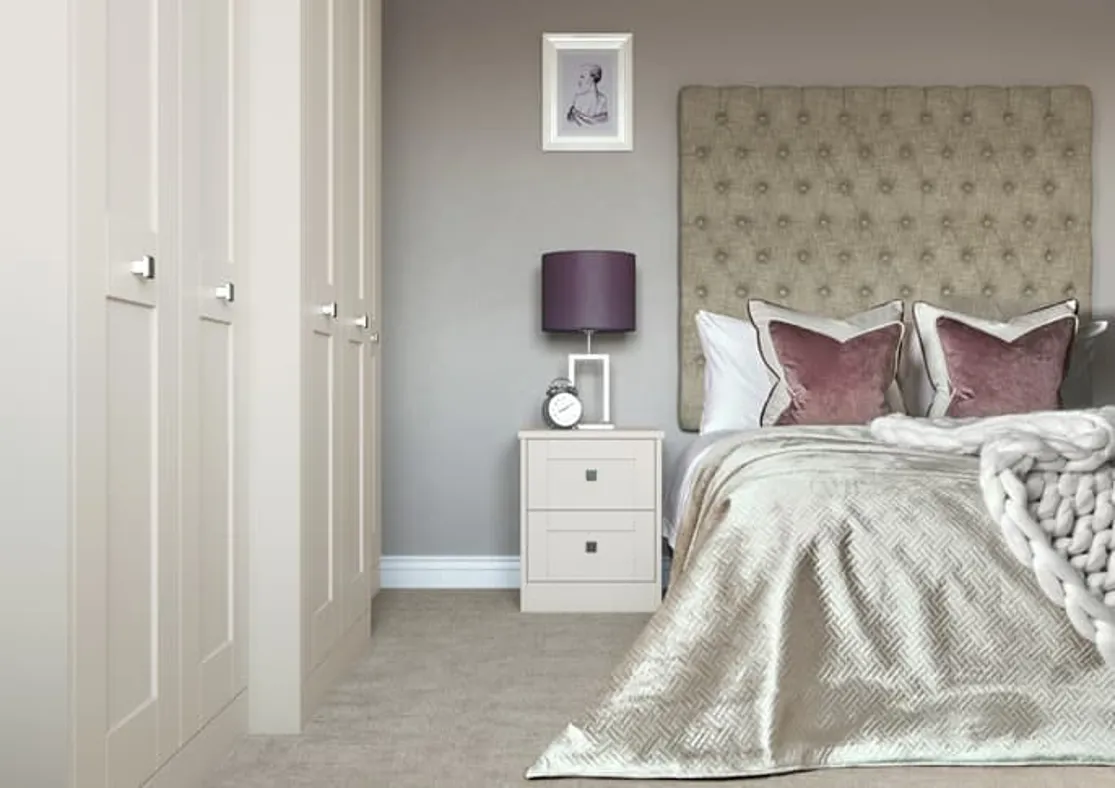 When considering your choice of flooring, it's important to think about obstacles. Rugs and loose tiles can be a potential hazard. Wooden flooring is always a safe option, but make sure your flooring includes a grain to create friction and stop the floor being too slippery.
Consider the design of your wardrobe interior
The interior features of your fitted wardrobe can easily be adapted to suit your needs. Internal rails can be positioned at the best height for you, plus they can always be moved in the future if needed.
Counterbalance rails are a simple solution that means no space is out of reach. The extendable rail pulls down to your height, making getting dressed in the morning simple.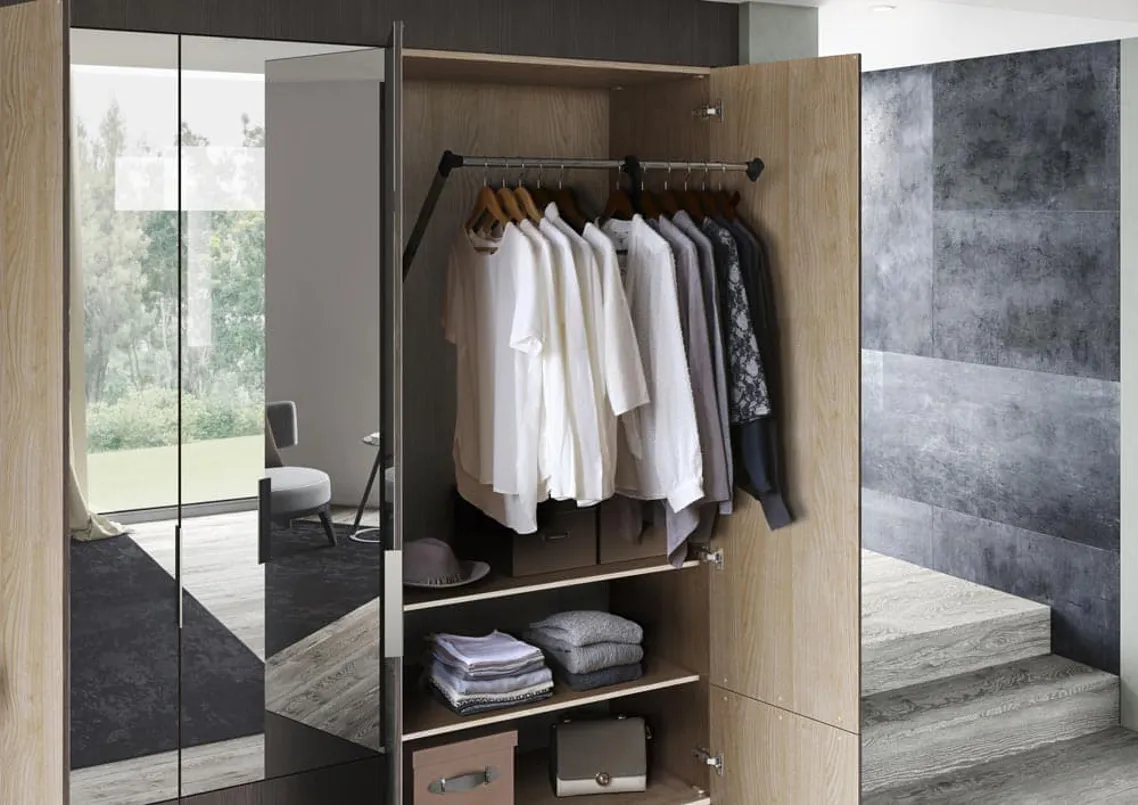 Pull-out racks are another great addition for any bedroom. For shoe lovers, a pull-out shoe rack is a space efficient way to display your collection in a practical way. If a suit and tie are the Monday to Friday uniform, a pull-out trouser rack will keep creases at bay, and a low door-back tie rack means ties are easy to reach, and most importantly, tangle-free.
Additional bedroom furniture
Choose a chest of drawers with low, soft close drawers that are smooth, ultra-quiet (no fear of slamming) and offer easy access with no struggle to close. Unnecessary clutter can cause problematic obstructions so consider additional storage if needed.
Cubed storage can be left open for easy access, creating practical and functional storage space. Display your favourite items and keep organised.
A dressing table can act as a focal point of the room and can be styled to bring out your personality, but its functionality should not be forgotten. A simple edit to the furniture design can change the height, depth and width to make sure it's right for you.
Don't forget your bedroom accessories
It's important to think about height with all your accessories. Make sure light switches, door handles, and any intercom systems are all placed within reaching distance.
Create a warm and welcoming space with multiple light sources. Well placed lighting can help pull a room together. Include task lighting on the dressing table and purchase a warm light bulb to produce a relaxing ambience.
Save valuable room and create a feeling of extra space by styling your room with mirrored wardrobe doors.
No-one enjoys doing the washing, so any little tricks can make a big difference, and incorporating a tilting linen bin is one of those. It's a great way to make the best use of small corners and gives you easy-reach access.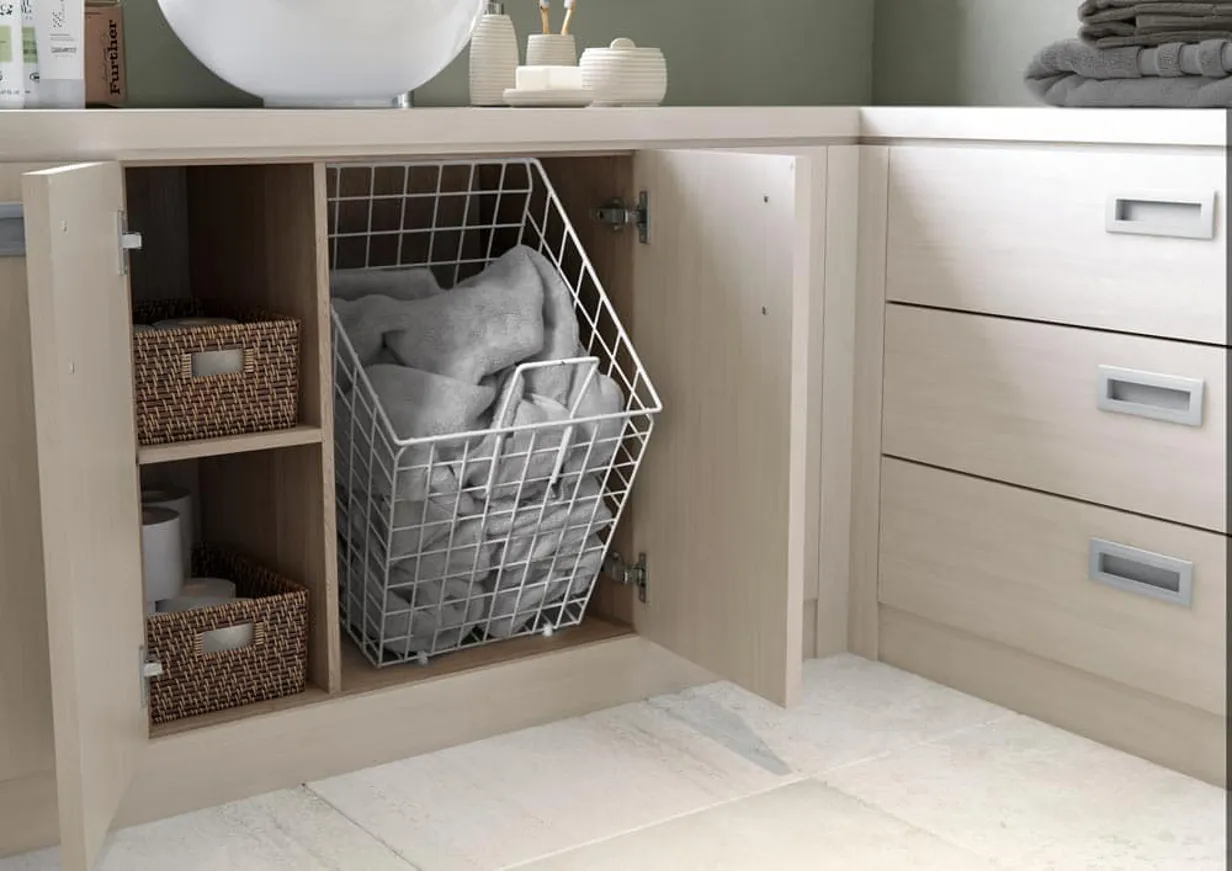 If you'd like help with your wardrobe design or more inspiration on how fitted furniture can help to make your bedroom more accessible, book a design visit today and see how we can transform your bedroom.
You bring the space, we bring the inspiration
Whether you have an exact vision in tow, or are just at the beginning stage of your home renovation, we have heaps of inspiration for you to get stuck into. 
Find a wealth of design tips, trends and inspiration in the pages of our brochure, magazine and on our blog. Our experts are always ready to help you create dream home, pop in store or book your free design visit for experts to help on bringing your vision to life.