Best colours for your home office
| Office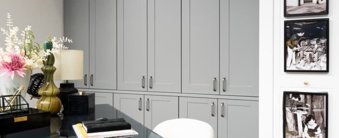 Best colours for your home office
Certain colours can have different effects on your mood. Red is the colour of danger, for example, while white can feel clinical and/or clean. Each colour carries some sort of tone or feeling, whether it's personal to you or widely accepted. So, when it comes to deciding on your home office colours, what should you go for? It's all about deciding what mood you want to evoke.
Green
Green is the colour of nature and growth, so it's the perfect choice of colour scheme for a home office. Soft olives or sage tones are probably the easiest to style, while a darker club green can make a room feel cosy, especially in the darker months when the table lamps are on. It's also great for feeling serious and sensible when you need to.
When it comes to styling and soft furnishings, a green room can carry a variety of other colours. Whites, creams, oranges and peaches all complement it well, along with some blue shades. Natural greens in the form of large houseplants are also a great addition.
Blue
Blue can feel a bit cold at times, although maybe you want that from an office – to keep you awake. But if you pick your tone carefully it can leave you feeling energised, like you've just jumped into a plunge pool. The jury might be out for some on vivid blue walls, but we love the boldness of them. Farrow and Ball's St Giles Blue is full of energy to help you get the work done and it would be a great background for all of those Zoom calls.  
Simple artworks on the wall with plain black frames can help to set off the colour nicely. If you want something a little more traditional, though, opt for a deeper inky blue or navy. They are tried and tested colours and have a sophisticated and calming quality for when you really mean business.
Monochrome
Everyone loves monochrome at the moment. It's contemporary and cool, and if you're someone that likes to get your head down, focus on work and keep things tidy, this home office colour scheme might be the one for you.
Because monochrome rooms are so simple in colour, you can play around with textures to add some personality. Our high gloss finishes add to the modern feel and are particularly good in small rooms as they can create the feeling of light. On the other hand, painted wood can feel softer, and perhaps calmer too – perfect for when work gets a bit stressful.
The trick to monochrome is to add some interesting images to your wall and (we know this might be controversial) just a little pop of something brighter, even if it's just your pencil case.
Neutral
Thanks to seemingly endless paint colours, neutral colour schemes have come a long way from magnolia. Neutrals range from soft creams through to mushroom tones and light tans. It's generally all very soft, calm and under control. To create the look, keep the walls simple in a flat paint colour and add some interest elsewhere with a sheepskin throw and a deep cosy rug.
Our Croft office furniture comes in a range of neutral shades and its distinctive wood grain finish adds depth and richness, emphasising the lighter colours in the room. A successful neutral colour scheme relies on texture and a touch of luxury.
Keep it personal
Whatever tones you choose for your walls, some of the most effective splashes of colour can come from your accessories and artworks. Large posters or prints don't have to conform to a single colour theme, but they can still be an important part of a home office if you find them inspiring, soothing or energising.
Bookshelves are also a really good way to add some personal colour touches. You could try arranging your books according to the colour of their spines. A wild patterned rug is another way to add a sense of vibrancy to your space because your home office needs to be fun and inspirational after all.
Hammonds can help with your home office storage
Book a design visit with one of our experts and they can talk you through all the possible colour and furniture combinations for your fitted home office. They will also create a CAD drawing of your space so you can visualise exactly what it will look like.
You bring the space, we bring the inspiration
Whether you have an exact vision in tow, or are just at the beginning stage of your home renovation, we have heaps of inspiration for you to get stuck into. 
Find a wealth of design tips, trends and inspiration in the pages of our brochure, magazine and on our blog. Our experts are always ready to help you create dream home, pop in store or book your free design visit for experts to help on bringing your vision to life.