Best summer paint colour trends for 2022
|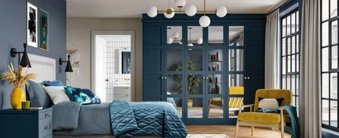 Best summer paint colour trends for 2022
It's around the time of year when many of us get the urge to give our walls and ceilings a new lease of life. All that natural sunlight shining through the window is wonderful, but it also has a way of showing up all those fingerprints and little marks too.
If you're planning on decorating this summer, you might want to embrace one of the many stunning colour schemes that are brightening our homes this year. Here we have collated all the latest colour trends in home décor to give you plenty of inspiration.
Rich yellows
Yellow is naturally connected with summer because of its associations with the sun, sand and the beautiful flowers in bloom at this time.
It has also been proven to increase feelings of happiness and contentment. Yellow is therefore a fantastic choice for living rooms, bedrooms and kitchens – basically the places you spend most of your time in.
Even in small rooms, yellow is highly recommended because it makes the room appear larger with its brightness. It's also a very positive and calming colour, so it's great for a child's bedroom or to section off a small meditation area in your living space.
Subtle watermelon shades
Ripe, juicy watermelon is so refreshing on a hot day, so who wouldn't want a shade of this in a home interior?
Whether covering a whole room or just a feature wall, watermelon is a colour that gives a real holiday feel, and pairs beautifully with shades of green, brown and white. Being part of the red family, it's also a very motivational colour, making it great for a home gym or office.
Rusty reds
Rust seems to be a paint colour trend that is rapidly increasing in popularity everywhere from fashion to interior design.
These reddish browns can instantly warm up a space, so it's ideal for making a living room cosier or your hallway more inviting. Although it's a bold colour, it isn't overpowering and can be very soothing if paired with neutral shades and other earthy tones such as beige, olive or taupe.
Shades of green
Nothing says summer like lush green grass and leafy trees. Therefore, using shades of green in your home is a paint colour trend that will help you harness that outside-inside vibe.  
There are various shades of green to play around with, from dark and dramatic teals to warm and earthy olives, so order some paint samples and see which variations you prefer.
Green can be a perfect colour to use in kitchens to extend out the views of your garden or for creating a calming bathroom that feels like a luxury spa. Style your green walls or furniture with white accents for a clean, fresh aesthetic and don't forget to accessorise with plenty of houseplants and natural fabrics too.
Bright blues
Classic blue was crowned the 2020 Pantone Colour of the Year, so there's little wonder it's cropping up as one of the latest cool colour trends in home décor.
While royal and navy blue were once the favourites for kitchens, we're now seeing brighter shades used for kitchen cabinetry, bespoke storage and wall colours as a more playful and contemporary alternative. Blue offers rooms a sense of calm and positivity, as well as creating more of a sense of space than a darker tone would.
Bright blue is also a great shade for a bathroom, meaning you can sink into a cosy bath while gazing out and dreaming of faraway tropical oceans!
Hammonds can help you match your storage to your colour scheme
Whatever colour scheme you opt for this summer, we can help you create a storage solution to match it perfectly. All our ranges come in a host of colours and finishes, so you can achieve an on-trend space with optimum storage space.
Be sure to book in your free Hammonds design visit to get the ball rolling.
You bring the space, we bring the inspiration
Whether you have an exact vision in tow, or are just at the beginning stage of your home renovation, we have heaps of inspiration for you to get stuck into. 
Find a wealth of design tips, trends and inspiration in the pages of our brochure, magazine and on our blog. Our experts are always ready to help you create dream home, pop in store or book your free design visit for experts to help on bringing your vision to life.