Biophilic bedroom design
| Bedroom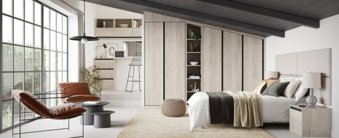 Biophilic bedroom design: What is it and what are its benefits?
Biophilic design is something that many people have been drawn to recently – perhaps without even realising. Put simply, it's about connecting our interior lives with nature, whether that's through house plants, natural light or the images on your walls.
The natural world has been proven to have a positive effect on our mental health and wellbeing, so embracing the biophilic interior design trend in your bedroom might be the best decision you ever make.
What is biophilic interior design?
Biophilic design originated as an architectural movement based around natural light, big views and ventilation. Its evolution into interior design was a natural one (of course). Plant prints are ubiquitous at the moment, whether it's on wallpapers, bed linens or art, so there are plenty of opportunities to create a biophilic-designed bedroom.
Biophilic design benefits
The main aims of this design movement are to promote happiness, reduce stress and boost our body's healing powers by reconnecting us with nature. It might sound far-fetched, but there have been numerous medical studies highlighting the positive effects of the natural world – it's even been seen that hospital patients with nice window views recover faster than those without. So, there you have it, incorporating a biophilic-designed bedroom into your home is good for your health.
How to use biophilic interior design in your bedroom
Plants
We begin and end each day in our bedroom, so turning it into a biophilic haven is well worth the effort. Houseplants are an obvious place to start. Go for variety. Combine a larger, architectural plant like a Yucca or a Monstera with the soft fronds of a fern and the flowers of a peace lily.
Some plant species are thought to be particularly good for improving air quality – Sansevieria (aka Mother-in-Law's Tongue) is one example – while others are good for darker spaces (plants with dark purple leaves usually fit this bill).
If you are limited on space, tiny hanging plants like Ceropegia Woodii (or String of Hearts) can look pretty and be very hard to kill. Little succulents can also look sweet grouped on a windowsill. They can be found relatively cheaply at most garden centres.
Windows and natural light
Exposure to natural light improves sleep, so crack open the windows and use floaty blinds to let in light, sound and fresh air. Try making your bedroom window a focal point of the room. You could create a window seat by incorporating some fitted storage beneath it and think about positioning a mirror in your room to reflect the light and the view.
If you're not blessed with gorgeous natural light, try incorporating some candles – the movement of the flame can have a calming effect on your mood. Warm, orange-coloured lighting is also ideal for inducing sleepiness, so bring in some lamps for a gorgeous soft glow.
Natural colours and materials
You could set yourself a challenge to only use colours in your house that you see in the natural environment. Greens and blues have strong associations with nature, but once you start looking and taking notice of the different tones available and how they exist together, you might be surprised at the potential choice and combinations on offer. The truest biophilic interior design schemes will also include natural materials such as wood and stone, and fabrics like linen and cotton for the soft furnishings.
Our fitted wardrobes are hand-crafted from ethically sourced wood, meaning you can get both the joy of the natural grain and the warm fuzzy feeling that comes from picking a sustainable and environmentally friendly material. What's more, there will be plenty of space to hide away any clutter that might not fit the biophilic theme.
Décor and accessories
When it comes to accessorising your bedroom, opt for images of nature to help you feel calm. Trees, beaches, mountains or all of the above can be mood-enhancing. Personal photographs from holidays or favourite walks will also help to evoke happy memories of being outside. 
If wallpaper is your thing, there are myriad styles of foliage, flowers and even birds or animals available in high-street stores. You could opt for one feature wall if the pattern is particularly large and busy, but smaller floral designs can look great across the whole room.
Hammonds can help design a biophilic bedroom for you
For help designing your biophilic bedroom, book a design visit with one of our experts. Our Hammonds designers will visit your home and draw up the perfect plans to suit your style and requirements.
You bring the space, we bring the inspiration
Whether you have an exact vision in tow, or are just at the beginning stage of your home renovation, we have heaps of inspiration for you to get stuck into. 
Find a wealth of design tips, trends and inspiration in the pages of our brochure, magazine and on our blog. Our experts are always ready to help you create dream home, pop in store or book your free design visit for experts to help on bringing your vision to life.