Blanket storage ideas for your living room
| Living Room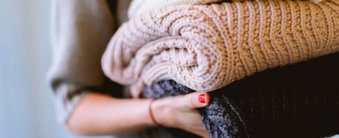 Blanket storage ideas for your living room
On long, cold winter nights, you can't beat snuggling under a blanket to keep warm. With energy prices predicted to increase further before eventually falling, blankets can also help you save a little bit of money by not using the heating as often!
However, when not in use, blankets are bulky items that take up a lot of room. It can be tricky to know where to put them so you can keep your space clutter-free.
We've pulled together a few ideas for living room throw and blanket storage so you can prevent an untidy pile-up from forming while still keeping them within convenient reach.
Make use of fitted cabinets
If you like to keep things out of sight when they're not being used, fitted living room furniture is the way to go.
With some custom built-in cabinets, you'll have a disguised home for your blankets. No longer will they be left on the sofa, making you uncomfortable when you sit on them while they're all bunched up. They'll also be out of reach of pets and children, saving you from having to wash them as regularly.
Visual clutter will be reduced and they'll be accessible when you or your visitors are feeling a little bit chilly. The chances are you'll have room to put other bits and bobs away in your cabinets too.
Add some baskets
Blankets don't have to be entirely hidden to look tidy, though. Wicker baskets can house them comfortably and provide an interesting design feature on your shelves. Alternatively, you could fashion a lid and use the baskets as side tables.
For something a bit more sturdy, you could get a trunk. Not only will it give you somewhere to tidily store your blankets, but you'll also add a rustic, farmhouse aesthetic to your space.
These living room blanket storage ideas are particularly helpful if you don't have any space left in your cabinets.
Hang on hooks
If you're limited on floor space, consider placing hooks on unused walls or the backs of your doors. This will get your blankets off the sofa and into a designated spot, allowing you to create a more cohesive and pleasing living room ambience.
Using hooks or clips can enable you to turn your throw into wall art too, which is particularly effective if it has a colourful, artistic design. Place it behind your favourite sofa and you won't have to see the blank wall when you take it down to warm yourself. It'll make a conversation-starting backdrop for all those video calls too!
Use bay window storage
There's a level of romance about the window seat. Few home comforts are as evocative as sitting down by a window, wrapping up in a blanket, and reading a book.
But not only can this be a great seating addition to your living room, it's also a brilliant idea when you need extra storage. With your blankets tucked away within the newest seat in the house, you'll be able to get comfy and cosy at a moment's notice.
Your bay window doesn't have to be an area that you struggle to fill – you can turn this awkward space into a magnificent storage and seating combination.
Hide them in an ottoman
Another multi-purpose piece of furniture that you'll quickly come to love is the ottoman. Not only are they handy for storage, but they're also mobile and can be used as a footrest or an ad hoc coffee table.
You could go for something small to be placed under a window or opt for something bigger and use it as the centrepiece of your room. Either way, it's a great blanket storage idea for your living room.
Let Hammonds help you fill your storage needs
Still not sure what the best blanket storage idea is for your living room? No problem – just book a design visit with one of our experts.
They will assess your space and understand your needs before generating a 3D design for you to get a clear visual of how your room could be upgraded.
Get in touch today and start the journey to turning your living room into what you desire.
You bring the space, we bring the inspiration
Whether you have an exact vision in tow, or are just at the beginning stage of your home renovation, we have heaps of inspiration for you to get stuck into. 
Find a wealth of design tips, trends and inspiration in the pages of our brochure, magazine and on our blog. Our experts are always ready to help you create dream home, pop in store or book your free design visit for experts to help on bringing your vision to life.