Bohemian-inspired teenage bedroom
| Bedroom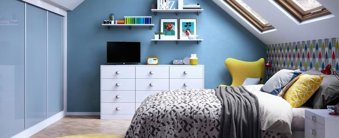 How to create a bohemian-inspired teenage bedroom
A bohemian bedroom is a fun, eclectic style choice and allows for plenty of creativity and individualism; that's what makes it such a good option for a teenage bedroom.
Parents will know that enthusing a teenager about decorating their bedroom might be a tall order but a great idea is hard to resist. Using our ideas and advice on creating a bohemian bedroom below, see if you can get your teenage kids involved in the transformation of their living space!
Pick your own wall colour
Because of the relaxed and eclectic nature of the boho trend, the good news is that there aren't any strict rules to follow when it comes to colour. This will be music to your teenager's ears; we're sure that they'll have strong preferences of their own on this front.
The best piece of advice to offer to them, however, is to choose a colour which is as neutral as possible to keep the backdrop of the space feeling as chilled and relaxing as possible. Bright colours tend to stimulate the mind so, when it comes to setting up a space in which to study and revise, it's best to keep things muted. A natural backdrop such as a taupe, beige or off-white also allows for more choice when it comes to furnishings and accessories.
Think about beds
Good sleep is very important for teenage health and wellbeing, so you'll want to invest in a bed that is both comfortable and inviting. A wooden or rattan frame will work really well in a bohemian bedroom design; it also helps to bring in that element of nature, which is a positive aesthetic for mental health.
Velvet headboards could also work well in a boho-chic bedroom, helping to add warmth and cosiness to the space. Your teenager might like the idea of a canopy bed, with hanging fabric drapes around the sides which give a hip, secluded vibe, like that found in an Ibizan boutique hotel. This type of bed also provides the perfect structure for draping plants and fairy lights around it to complete the charm.
Rugs are essential
Boho bedroom schemes are all about layers and texture so plenty of rugs, throws and blankets are key to perfecting the trend. As well as making the room feel cosy and inviting, rugs can really bring the space together and work especially well on natural wood or jute flooring choices. There is plenty of choice available when it comes to finding boho rugs and soft furnishings, so why not take your teen into town and pick out a rug together? You're bound to find something that speaks to you both.
Choose your wall hangings
Wall art is a big part of a bohemian-inspired interior decorating schemes, so bare walls are not an option here. This is a great chance for your teenager to embrace their creative side and expressive themselves with their own choice of art, photography and colour. Remember to keep an open mind here. There might have to be a bit of give and take but try to look at things through their eyes and give them space to choose things that inspire and excite them personally.
Artwork doesn't have to cost a fortune, either – there are thousands of digital prints online that you can download from sites such as Etsy which can be printed at your local printers and framed relatively inexpensively.
Add some greenery
Plenty of greenery is a must-have in your teenager's bedroom design.  Not only are plants great for lowering stress and anxiety but they also improve the air quality and can even ease dry skin at the same time. Just add light and water and your teen can enjoy an indoor oasis in their boho boudoir.
Whether you place plants on shelves, in macramé hangers or on the floor, they will elevate the space and invoke a sense of serenity at a time in your child's development when they need it the most. Just be sure to select houseplants that require very little day-to-day maintenance in case they don't get watered for a while!
Think about storage
Teens are notoriously stereotyped as being messy but this isn't necessarily always the case. The key is just to give your teenager ample storage facilities so that they can house all their belongings without having to think too much about it. If you're thinking about how to design a small bedroom for a teenager that incorporates easy storage, then fitted wardrobes can provide a great solution. Bespoke wardrobes can be customised to fit even the most awkward of spaces and come in a whole range of colours and finishes to tie in with your bohemian theme.
If you need a little assistance when it comes to re-assessing your teenager's bedroom design to maximise storage space, then our Hammonds experts are here to help. Book in your free design visit today to help start the process.
You bring the space, we bring the inspiration
Whether you have an exact vision in tow, or are just at the beginning stage of your home renovation, we have heaps of inspiration for you to get stuck into. 
Find a wealth of design tips, trends and inspiration in the pages of our brochure, magazine and on our blog. Our experts are always ready to help you create dream home, pop in store or book your free design visit for experts to help on bringing your vision to life.