Boost your inner wellness with organisation
| Bedroom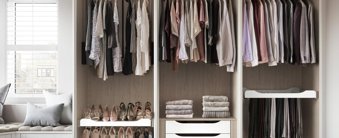 Boost your inner wellness with organisation
It's the age old saying, a tidy home = a tidy mind. But why exactly? What are the psychological stresses that seem to tick when clutter builds up around us and how much difference does this all make?
Why clutter impacts your psychological health
From the moment you wake up in the morning, the setting around you can take you in a number of ways with your mood. Are you able to easily pick out your outfit for the day ahead? Or do you find yourself wasting precious time scrambling in your drawers and wardrobes for your work trousers only to find they're wrinkled and need an iron. It's moments like this that will alter your inner wellness more than you may think. What's more, it's the knowledge of outstanding jobs themselves in order to create that clean and tidy environment that will also take a toll.
Everything in its place
A great step to taking control of your inner wellness by creating an organised sanctuary is giving a home for each item and ensuring it is placed there when not in use. Marie Kondo, author of 'The Life Changing Magic of Tidying' said 'The reason every item must have a designated space is because the existence of an item without a home multiplies the chances that your space will become cluttered again.' She explains that without putting items in their home then they can accumulate in unwanted areas. Returning shoes back after wearing them to the shoe racks, blazer back into the wardrobe and hand creams back into the cosmetic units rather than discarded on the living room coffee table for example will have a positive effect. 
Make it a good habit
You'll be surprised how little time it can take doing something everyday before it becomes a habit. Phillippa Lally, a health psychology researcher for UCL examined how long it took precisely in a study published in the European Journal of Social Psychology and found it took on average 66 days, about two months. Why not try using Kondo's trick of returning items to their home everyday, after two months this may become second nature, leading to a more organised lifestyle and peace of mind. 
You bring the space, we bring the inspiration
Whether you have an exact vision in tow, or are just at the beginning stage of your home renovation, we have heaps of inspiration for you to get stuck into. 
Find a wealth of design tips, trends and inspiration in the pages of our brochure, magazine and on our blog. Our experts are always ready to help you create dream home, pop in store or book your free design visit for experts to help on bringing your vision to life.