Built in alcove wardrobe & storage ideas
| Wardrobe, Storage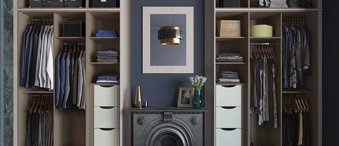 Built in alcove wardrobe & storage ideas
Having a chimney breast or fireplace in your bedroom adds rustic charm and warmth. However, despite their visual and thermal appeal, bedroom fireplaces can pose certain interior challenges when leaving you with potentially awkward or unused spaces to fill.
If you have moved into a period property, it's likely that you will have at least a couple of chimney breasts in a few of the rooms. In this article, we'll look at clever alcove storage ideas to turn the areas around your chimney breasts into practical storage space.
Built-in alcove wardrobe ideas
Much of the time, freestanding wardrobes are large, cumbersome and inflexible items of furniture. You'd be extremely lucky to find a freestanding wardrobe that fits into your alcove perfectly without any unsightly gaps or edges jolting out.
Therefore, the ideal solution would be to opt for fitted alcove wardrobes, built to the alcove's exact height, width and depth. This way, your wardrobe fits seamlessly into the space, maximising its potential. Bespoke fitted wardrobes can be customised and designed to suit your exact requirements to offer the storage layout that works best for you.
Shelving
Floating shelves fit perfectly into alcoves and can be designed to fit the space exactly. Shelving comes in many different thicknesses and can be painted to suit the theme of your bedroom. Having same colour walls and shelving is a stylish option that helps to blend the shelves into the space around them without creating a focal point.
Whether you prefer floor-to-ceiling shelves for books, stationery and decoration or additional cabinet space underneath the shelves, there are plenty of design options to consider.
Built-in cabinetry
If you require extra housing space in your sleeping area, then bedroom alcove storage ideas don't come better than built-in cabinetry.  
Built-in cabinets are great for housing all the bulky items you might not want to have on display, such as bed linen, towels or underwear. Plus, the top of the cabinet can also act as a nice shelving platform for plants, candles and photo frames, making them both practical and visually attractive.
A storage bench
If your alcove is of a reasonable depth, a storage bench could provide a cosy place to rest, as well as practical storage space.
You could create your own reading nook with a pendant lamp overhead and floating shelves to house your favourite books. Consider placing built-in storage or freestanding baskets beneath to house toiletries, accessories or sleepwear.   
Place a soft seat cushion on top of the bench to keep you supported as you read and add plenty of plush pillows and cushions for extra comfort.
Freestanding cabinets
If you would prefer to place freestanding cabinet units into your bedroom alcoves, then get ready to research the best items to fit into your unique space.
You might struggle to find a cabinet that is exactly the same size as your alcove, but perhaps some quirky furniture such as a vintage dressing table with matching stool would look great in the space. Take a trip to your local vintage market or antique store to see if you can pick up some hidden gems to work well in your bedroom theme.
A media unit
For those who love to relax with TV time in their bedroom, a bespoke media unit could be a great idea to fill in an alcove. Many people use the upper part of their chimney breast to attach a TV bracket too, so it makes perfect sense to transform the alcoves either side of it into an attractive media storage unit. This will help to create a home cinema feel in your bedroom, as well as offering essential space to house DVDs, remote controls and games consoles.
Bespoke media units can be customised to your exact requirements. Not just in terms of size, but also in terms of colour, style, design and inside layout. They're ideal to help you create a clutter-free and harmonious atmosphere in your place of rest.
Get the most out of unused space with Hammonds furniture
At Hammonds, we are passionate about fitted home storage space. We are experts in working with tricky areas and can offer lots of bedroom alcove storage ideas for your home.
Get in contact with us today to arrange your free home design visit and start your bedroom transformation journey.
You bring the space, we bring the inspiration
Whether you have an exact vision in tow, or are just at the beginning stage of your home renovation, we have heaps of inspiration for you to get stuck into. 
Find a wealth of design tips, trends and inspiration in the pages of our brochure, magazine and on our blog. Our experts are always ready to help you create dream home, pop in store or book your free design visit for experts to help on bringing your vision to life.