Cheap bedroom renovation ideas
| Bedroom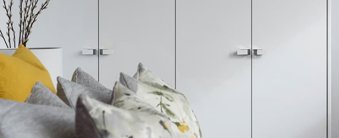 How to transform your bedroom on a budget
Now that the spring vibes have arrived, many of us will be looking at ways to refresh our homes and living spaces. One of the best places to start is in your bedroom – after all, it's the place we go to for relaxation and calm, so it should feel both organised and cosy.
If you feel that your bedroom needs an update, you really don't need to break the bank. There are many cheap bedroom renovation ideas that you can implement with little effort required.
Here are some of our top tips for transforming your bedroom on a budget.
Change your bedding
And we don't just mean putting it in the wash! One of the simplest and most effective ways to transform your boudoir is by changing your bed linen. Opting for a fresh white set will make your room appear fresh and clean in an instant, whereas bed linen with pops of colour will give that everyday summer feel.
As we are moving into the warmer seasons, it's best to invest in good-quality cotton or linen. These fabrics will keep your body at a consistent temperature through the night, even when the heat rises outside. You might also want to change your duvet for a lighter tog rating and swap your heavy pillows for cooler alternatives.
While you are sorting out your bedding, why not put your thick winter blanket underneath the bed until next year and choose a lighter version for the spring and summer months? With many pretty designs to choose from, you can completely change the feel of your bedroom for a minimal budget.
Consider your lighting
Lighting is key when it comes to making your bedroom feel inviting and serene. Finding a good scheme doesn't have to mean spending lots of money either.
If your existing room lighting needs an update, you don't always have to change the fixtures completely. Secondary lighting can often be updated with a new lampshade, and pendant lights can be upcycled with a spray of paint or a new set of funky bulbs.
Fairy lights and candles can also be picked up inexpensively and are great for finishing off the relaxing atmosphere in your bedroom. Opt for pastel colours and springtime candle scents including bergamot, lemon, mandarin, jasmine and rose.
Channel your inner architect
Having a change of layout in your bedroom doesn't necessarily mean getting out the hammer and nails or getting the builders in for a complete bedroom renovation. You could transform your space just by rearranging the position of your bed and wardrobe.
According to the principles of feng shui, your bed is the most important piece of furniture in your home and should be placed in your room according to certain rules. You might also find that by moving your bed you can get more natural daylight facing you as you wake up or have more space to place some lovely bedside tables or shelves.
Freshen up the walls with a lick of paint
If your bedroom is looking a little tired, a few coats of paint could be all you need to make it feel sparkling and new once again.
Summer bedroom decorating ideas could include a coastal sea-inspired palette of blues to give you inspiration for your next beach holiday. Alternatively, you could go with a garden-inspired scheme of yellows, greens, pinks and mauves to help bring nature into your room.
It's not only your bedroom walls you can paint either. You can upcycle pieces of furniture such as dressing tables, bed frames and chairs without having to shop for expensive new ones. Painting pieces of furniture with new shades of colour will not only increase their value but also give them a completely new lease of life in your bedroom space.
Add more storage
If your bedroom feels cluttered, it might be time to add some clever storage. Investing in bespoke fitted wardrobes can help bring a clean, coherent look to your room while making full use of all available space.
Fitted bedroom storage can be customised to your exact needs, tastes and colour preferences. With so many styles and designs to choose from, it's a simple way to renovate your bedroom to keep it looking chic for a long time to come.  
Adorn your walls with prints
Artwork is an excellent way to update your bedroom. The beauty of wall art is that it can be moved, switched around and replaced very easily. There are many websites now offering great prices for downloadable prints, which you can print yourself and frame very economically.
Whether you're a fan of modern art or more traditional prints, a few simple pieces in your bedroom can make a big impact. A large framed painting or image of your favourite place might help you dream of lovely things each night. A gallery wall of memorable photos might help you stay connected with friends and family even when you've not seen them for a while.
Hammonds can help with your bedroom renovation
We are experts in bedroom renovation and getting the best out of the space available.
Why not book in a free design visit for help with designing a bedroom that doesn't cost the earth?
You bring the space, we bring the inspiration
Whether you have an exact vision in tow, or are just at the beginning stage of your home renovation, we have heaps of inspiration for you to get stuck into. 
Find a wealth of design tips, trends and inspiration in the pages of our brochure, magazine and on our blog. Our experts are always ready to help you create dream home, pop in store or book your free design visit for experts to help on bringing your vision to life.