Coastal cottage decorating ideas
|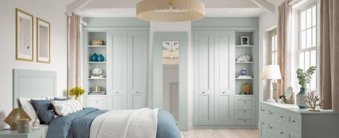 How to nail the coastal-inspired cottage décor trend
Being by the sea is naturally calming. The sound of the waves, the horizon in the distance and that fresh breeze flowing around – it's enough to make even the busiest of days seem relaxing. It makes sense, then, that we might want to incorporate a coastal feel into our homes in order to achieve the same benefits.
A coastal-inspired interior is one that never goes out of fashion. Its timeless style and effortless sophistication fit many properties, but none more so than a cottage home. Here we offer ideas and inspiration for creating the perfect coastal-inspired cottage.
What is the coastal-inspired trend?
The coast has inspired so many writers, artists and poets, so it's no wonder that its wild, carefree qualities spread into interior design, too. Coastal-inspired cottage décor is all about recreating the feeling of peace and fun that comes with being by the seaside. The key is to make each space as bright and breezy as possible to evoke that holiday atmosphere each day in your home. Using colour, textures and accessories, you can achieve a beach-house cottage vibe that is both chic and cosy.
How to recreate the coastal-inspired look: Colours
Not to be confused with the nautical interior theme, which features heavily on blue-and-white stripes throughout, the coastal look is subtler, with a muted colour palette as a base. Off-whites, pale greys and duck-egg blues provide a great backdrop for walls and ceilings and help to nurture that feeling of seaside bliss. These warmer shades provide more of a cosy feel than stark whites, which can often feel rather cold in UK homes, especially during the winter months.
Take inspiration from the sea
The key to success when following the coastal cottage décor trend is to look to the natural world as much as possible. Hunt for furniture and accessories that have been foraged from the sea, such as lamps made from driftwood or pretty dishes made from seashells. Seagrass makes a great flooring option to fit with this trend and means that you're not only creating a sustainable home but a stylish and comfortable one too.
There are also many pieces of furniture, such as coffee tables and chairs, that are made from reclaimed wood, so do your research and curate the perfect pieces for each room.
Keep things modern
Coastal-inspired cottage décor is minimal, bright and airy, making it perfect for an open-plan living space. Open-plan areas are welcoming and sociable, giving the feeling of extra space and flow.
However, when it comes to planning such an interior, it's important to consider where you are going to store all your things to keep it looking decluttered and sleek. This is where fitted living-room furniture really comes into its own. Fitted furniture such as built-in cabinets, shelving and bookcases offers the space you need to store away all your belongings out of view, allowing you to keep that minimal and fuss-free appearance that is vital in a coastal-chic dwelling.
Enhance your views
If you're lucky enough for your cottage to be located beachside, then be sure to make it a big feature in your interior. Floor-to-ceiling windows, sliding glass doors and skylights all offer the chance to let your view do the talking, as well as allowing light to flood into your space.
If your home is not within looking distance to the sea, then fear not, as there are many ways to recreate the look from afar. Large pieces of coast-inspired artwork, sculptures, murals and holiday photo galleries are all ways to bring the charm of the sea into your living area, giving you that feeling of beachside living whenever you look at them.
Add some thrift-shop finds
Your coastal-inspired cottage interior-design ideas will really come alive once the smaller details are in place – and these don't need to cost the earth (literally). Small bowls of seaside shells, vintage anchors and handmade blown-glass vases all add so much character to a beach-themed décor and are also kinder to the earth than buying new, mass-produced items. Try to keep it as natural as possible when it comes to fabrics for soft furnishings, too. Linen, cotton and bamboo are all great materials to choose for this, adding the perfect finishing touches to your interior.
If you are feeling inspired to create a coastal-inspired space with plenty of storage in your home, then book a free design visit with our Hammonds team to benefit from expert advice and ideas.
You bring the space, we bring the inspiration
Whether you have an exact vision in tow, or are just at the beginning stage of your home renovation, we have heaps of inspiration for you to get stuck into. 
Find a wealth of design tips, trends and inspiration in the pages of our brochure, magazine and on our blog. Our experts are always ready to help you create dream home, pop in store or book your free design visit for experts to help on bringing your vision to life.