Colour scheme ideas for your hallway
| Inspiration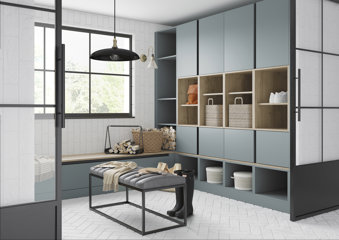 Colour scheme ideas for your hallway
Much like the front door, your hallway sets the tone for the rest of your home. Along with being the first thing your guests see, the design, colour and style of your hallway tells a tale about how you choose to use your space.
Since your hallway helps to shape your interior, it's important to find a colour scheme that suits it. The colours you choose should not only match your home aesthetic but offer an inviting feel to anyone who walks through the front door.
In this blog post, we'll share some inside advice on the importance of choosing a colour scheme along with some suggestions for both quirky and popular hallway colours.
Why is colour scheme important?
From our mood to the overall ambience, colours determine how we feel in a space. Using colour schemes within your home is a fundamental part of interior design, so you should always try to choose a colour that reflects your style.
There's a huge spectrum of shades that could all carry a profound impact on the way we feel. Pink, for example, is widely believed to carry a calming effect and it's been proven that the colour red triggers more immediate emotional responses.
Choosing a colour scheme for your hallway sets the precedent for the rest of your home. It could influence how you feel about returning home after a busy day – and potentially make the difference between immediate calm or confusing irritability.
Which are the best

colours to paint a hallway

?
Blue hues
Blue is a beautiful colour to incorporate into your home. It often symbolises peace and serenity but one of the best things about blue is its versatility. You can choose from popular hallway colours like deep midnight blue, light aqua and playful turquoise. Whether you opt for fresh teal or a sophisticated navy, it's an easy way to make your hallway look timeless.
Our tip: try to avoid lighter blues if your hallway has light-coloured floor or skirting. Pale blues work most effectively in contrast with dark wooden flooring or striking features. If there's no variety or texture in the room, light blue risks looking a little bit plain.
Earthy browns
From lighter sandy shades to deep natural oaks, the colour brown makes a handy choice for busy family households. When used in conjunction with a contrasting neutral or light flooring, brown colours in the hallway emanate calm, relaxing tones.
Brown is generally considered a warm colour. Colour psychology says that brown makes us feel a sense of safety and security, largely due to its natural connotations with the earth. You could use varying shades to add depth and brighten the look with some cream or white hallway furniture. Brown is as comforting as it is neutral and makes a welcoming alternative to grey.
Bold and bright tones
Why not make a statement in your hallway? Add bold and bright accent colours to bring the space to life, perhaps with a comfortable armchair or trendy floor lamp to boot. Being brave with colour combinations could certainly pay off!
Cheerful yellows could help to bring rays of sunshine into your hallway. Not only will your hallway look bright and beautiful with yellow but it could even evoke feelings of happiness for your family and visitors. The most popular hallway colours might not make a logical choice for a home with unique personality.
Neutral hallway colours
Neutral shades give you more flexibility and scope to work out your own colour scheme. From pale pink to soft amber and cream, there are so many neutral hallway colours with which to work.
Sage green shades can feel safe and soothing and make a wonderful way to freshen up your hallway. If you choose to invest in bespoke understairs storage to keep your hallway tidy and clutter-free, sage green could make a lovely colour choice for this, too. With careful planning, designing your hallway around a colour scheme is simple.
Darker shades
Keep your hallway subtle by incorporating dark, moody tones like burgundy and emerald.
These colours can carry the effect of pushing walls outwards, creating the illusion of a much larger space. If your hallway is already flooded with plenty of beautiful natural light, darker shades on a feature wall could make a fantastic way to define your colour scheme without any imposing effect.
Colour your home with Hammonds
At Hammonds, we're interior design experts. Finding the best colours to paint a hallway might feel tricky but we can help you with the most innovative solutions for your home.
Book a free design visit today and enjoy a simple, hassle-free service tailored to your home. Our helpful team will work with you to create a colourful, immersive, and tranquil space that you'll adore.
You bring the space, we bring the inspiration
Whether you have an exact vision in tow, or are just at the beginning stage of your home renovation, we have heaps of inspiration for you to get stuck into. 
Find a wealth of design tips, trends and inspiration in the pages of our brochure, magazine and on our blog. Our experts are always ready to help you create dream home, pop in store or book your free design visit for experts to help on bringing your vision to life.