Cool tech bedroom ideas
| Inspiration, Bedroom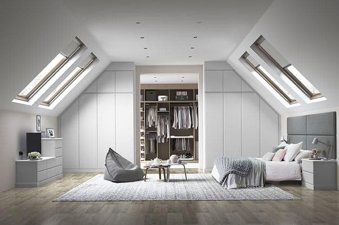 Use tech to begin and end the day smoothly. From smart systems to sleep aids, our guide has everything you need to create a state-of-the-art bedroom.
Cool tech bedroom ideas to improve your daily routines
We tend to tuck technology away before we go to sleep. Screens can stimulate our brains, which isn't ideal when we're trying to relax, so we turn off the TV and lock our smartphone until tomorrow.
But there is tech that can be ideal for helping us sleep. Plus, there are devices and gadgets designed to wake you in the morning and set your routine up for the day ahead.
Here, we round up cool, high-tech bedroom ideas that can help you begin and end the day smoothly.
Sunlight alarms
While turning off your phone before bed might be something you do to settle to sleep, it can be equally disturbing to be woken by the alarm on your mobile. In fact, according to Sleepstation, the NHS-endorsed sleep programme, any type of sound-based alarm can be bad for us – and, in extreme cases, detrimental to our health.
The organisation goes on to explain that a light-based alarm is a more natural way to wake up. Alarms that replicate the sunrise offer a gentle way to alert you to the day beginning and are designed to gradually wake you. This is a much gentler start than by being shocked out of sleep by a loud noise.
These sunlight alarms come into their own in the winter. The darker mornings can make it especially difficult to get up and feel motivated. By filling the room with light, you're tricking the brain into thinking it's just as light outside.
Home assistants
One type of tech that's becoming increasingly popular is the home assistant. Voice-activated devices such as Siri and Alexa are a useful piece of tech to add to your bedroom setup as they can be used as part of your daily routine.
You could start the day by asking the device what the weather forecast is and requesting it play your favourite soundtrack as you get dressed. You can also programme the device to build your calendar, so that you can get reminders and a timetable for the day ahead.
Clever storage
As well as computer-based tech, design technology can also transform your bedroom. Clever storage solutions such as pull-out trays and concealed, spring-mounted drawers can make your daily routine seamless.
Investing in high-tech bedroom furniture takes a bit of planning. You'll need to work out what type of storage you need and how this can fit into your bedroom. You'll also need to determine how much space you have, as this will give you an idea of how far extendable drawers and other solutions will reach.
It's worth putting this time in and getting advice from an expert team. Being able to cleverly arrange your clothes and other everyday essentials can make your morning routine more efficient and help you wind down after a long day.
Climate control
Whether you're spending the day in your room reading a book or you're trying to get to sleep, if the temperature isn't right, you're less likely to feel comfortable. Plus, if you're settled under the covers, you won't want to get up and turn the heating on or try and find the fan.
Luckily, technological innovations have made it possible to control the temperature without having to get out of bed. This is largely because of the recent surge in popularity of smart thermostats. This piece of tech connects your heating system to the internet, so you can control the heat levels through your smartphone.
If you're trying to cool things down, there are also smart fans. Again, you can control these using your smartphone through an app or you can programme it through your voice assistant.
With both of these cool tech bedroom ideas, there are options to schedule your devices to fit your daily routine. So, if you need to set the temperature before you get home from work, you can programme your climate control gadgets to suit your schedule.
Smart windows and blinds
Smart windows and blinds can be a real investment if you're looking for clever ways to make your room cosy at the end of the day. There are different options available, so you can take some time to work out which is the right fit for your bedroom.
Many include built-in motors that are controlled either with a remote control or voice activated smart speaker. There are also windows and blinds with built-in sensors that cause the blinds to react to changes in light, moisture and temperature, creating the ideal level of shade.
Select your tech bedroom setup
From devices controlled by an app to technologically advanced bedroom furniture, there are many solutions available. Plus, as technology continues to evolve, there are sure to be even more innovative smart tools and gadgets that are designed to optimise your bedroom.
If you're planning to add some cleverly designed furniture to the space, we're on hand to help. Book a free Hammonds design visit and we'll talk you though how smart bedroom design can complement your tech and help you balance your daily routine.
You can also find further guides on the Hammonds blog.
You bring the space, we bring the inspiration
Whether you have an exact vision in tow, or are just at the beginning stage of your home renovation, we have heaps of inspiration for you to get stuck into. 
Find a wealth of design tips, trends and inspiration in the pages of our brochure, magazine and on our blog. Our experts are always ready to help you create dream home, pop in store or book your free design visit for experts to help on bringing your vision to life.