Cottagecore bedroom ideas
| Bedroom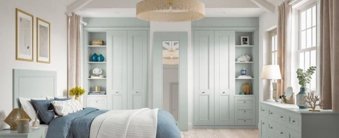 Cottagecore bedroom ideas that embrace the booming aesthetic
Cottagecore has exploded on social media in recent years and, while you are bound to recognise the aesthetic (romantic, florals, vintage teacups, etc.) you might not have realised that it had a name and a hashtag. This cosy, pretty trend feels particularly suited to bedrooms, so here's a handy guide to help you to achieve the look in yours.
What is cottagecore?
Think Cathy from Wuthering Heights, mixed with a few Jane Austen characters, and a sprinkling of climbing roses, scalloped bed linen and fresh mint tea (in a vintage teapot). Somewhere in all of that is cottagecore. In part, it's a response to hectic modern life, instead promoting a simpler and more sustainable existence away from screens and stress. It has roots in a romanticised vision of life in the English countryside and it's a trend that you can choose to fully embrace or just bring in a few minor accents.
Cottagecore bedroom ideas
The cottagecore aesthetic is all about cosiness and wellbeing at home. It's nostalgic, so vintage pieces are an important part of the look. Old crockery, embroidered cushions, paintings of bucolic country scenes will all add to it. Of course, cottagecore as an interior design trend has been around for several years under different guises. Laura Ashley, Cath Kidston and the Arts and Craft movement of the mid-19th century were early adherents.
How to embrace the aesthetic: Neutral colours
The cottagecore colour palette traditionally uses muted, neutral shades as a base for bolder patterns and pops of colour. Whitewashes can look beautifully fresh against floral linens and patterned cushions, but pale greens and buttercup yellows are good for adding warmth and softness. When you're thinking about colour scheme, you could try using plants as your inspiration. Primroses offer the yellows and greens, for example, while roses have the pretty pink and cream tones.
Vintage patterns and prints
Vintage-style floral prints are all the rage in the cottagecore community, so bedding and wallpaper are obvious places to start. Check eBay for second-hand remnants or end-of-roll wallpapers. Even if there's not enough for a whole wall, you could use it for drawer liners. It's not just about the florals, though. Brands like Cath Kidston do great lines of fabrics featuring farm animals. A renewed interest in birds and insects mean that these are also heavily featured on fabric and soft furnishings at the moment.
Natural elements
As well as celebrating nature in prints, you can bring in some décor from outside through flowers and natural materials. No cottagecore bedroom is complete without fresh flowers in vintage vases, and pretty succulents and trailing foliage are a must on shelves and windowsills. Plant up terracotta pots or woven baskets to enhance the natural theme and use plant hooks to arrange hanging stems around windows or wall pictures.
Wood, whether painted or with the natural grain showing, works well for furniture. Our timeless Croft range, with its shaker-style doors, complements the theme perfectly, and it is available in a range of pastel hues as well as nature-inspired tones like Stone and Ivory. The gentle curves and delicate detailing of our Rialto range make it another a great option here.
Cosy furnishings
In short, if something looks and feels cosy, then it probably suits the cottagecore aesthetic. Sheepskins or vintage rugs are ideal for creating softness and warmth underfoot, and a few strategically placed throws on the bed or over chairs all enhance the look – especially if they're handmade. Quilts or crocheted blankets would be perfect but, if these are hard to come by, then you could opt for some cosy linen bedding – the more crumpled, the better.
Fairy lights and candles also contribute to that welcoming feel, while bedside lamps with fabric frames (gingham, ideally) will tie it all together.
Cottagecore clothing and storage
If you find yourself fully embracing the cottagecore life then don't restrict it to just your home; it's becoming a growing fashion trend, too. Ruched tops, blousy sleeves, even a ribbon in your hair… cottagecore is fun and unashamedly feminine. A few frills and flowers also look perfect when paired with comfortable classics like dungarees or high-waisted trousers because, of course, a country life is an active one. Obviously you will need some clever storage for your clothes, so one of our fitted bedroom wardrobes will do the trick nicely. Apart from looking the picture, our wood is sustainably sourced, hand-crafted and built to last, so it fits all the cottagecore ideals.
For help creating a cottagecore bedroom with well-made, long-lasting storage, browse our website and book a design visit from one of our experts. We will design the perfect storage solution, bespoke for your home and tastes as you choose between a wide variety of ranges and colours.
You bring the space, we bring the inspiration
Whether you have an exact vision in tow, or are just at the beginning stage of your home renovation, we have heaps of inspiration for you to get stuck into. 
Find a wealth of design tips, trends and inspiration in the pages of our brochure, magazine and on our blog. Our experts are always ready to help you create dream home, pop in store or book your free design visit for experts to help on bringing your vision to life.