Create a cosy guest bedroom with these stylish design ideas
| Bedroom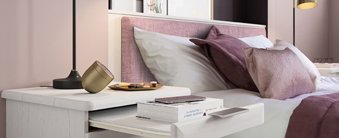 Create a cosy guest bedroom
Whether it's a family member or a close friend staying over, you want to ensure that any guest to your home feels welcomed, relaxed and comfortable - just like checking into a nice hotel. That's why creating a cosy guest room is key when planning the interior of your home.
If you take a bit of time to think about what your future guests might need to relax and acclimatise to your environment, then chances are that you will ensure that they will have a fabulous and restful stay.
Here are some ideas for guest bedrooms that are cosy, stylish and practical all alike:
Keep the décor simple and tasteful
Everyone has different tastes when it comes to interior style, so keeping your accents and décor simple and tasteful is most likely to appeal to everyone. Natural shades of warm white, beige and pale grey offer a boutique-hotel vibe that is relaxing and calm. Sticking to warm, neutral tones for walls and floors also means that you can adapt your guest bedroom décor to suit the seasons. For example, you can bring out soft, pastel-coloured bed linen and accessories for spring and summer, and then switch to rich crimson, teal or forest-green soft furnishings during the winter months.
Upgrade your bedding and linen
Clean, ironed bed linen is an absolute must when it comes to preparing for guests. Going that step further and using luxurious 100% Egyptian cotton bedding and plush pillows, though, will really give your guest bedroom that five-star factor. It's a way to guarantee that your guests enjoy a comfortable night's sleep, whatever the weather. Think of soft fluffy comforters, extra pillows, and mattress toppers, and don't scrimp on the mattress itself – remember that your guest mattress should be reviewed and replaced in just the same way as your main beds for health and hygiene reasons.
Make sure there's plenty of wardrobe space
Depending on how long your guests are staying, they may need a fair amount of bedroom storage space to store clothes, shoes, coats and other accessories. Investing in fitted wardrobes that match the aesthetic of your room means that you can offer plenty of wardrobe space when they arrive, so that they don't have to clutter up the room with all their belongings or live out of their suitcase.
Fitted wardrobes are not only a fantastic way of optimising space and freeing up room in awkward areas but they also look stylish and contemporary. What's more, when your guests are gone, you can utilise this space yourself to house any extra items that are normally without a home - a bedroom storage solution that delivers all year round. Before your guests arrive, you might also want to leave them out a tray for their cosmetics and beauty products, as well as a linen basket into which they can put their dirty items of clothing each night.
Layer lighting
As we well know, lighting can make all the difference to the atmosphere in a particular space. Lighting in a bedroom should be able to be bright enough that guests can get ready in a morning without straining the eyes, but also soft enough that they can relax in a darker environment and get ready for a great night's sleep.
Providing versatile bedroom lighting makes both of these functions possible. Dimmer switches are essential on spotlights and pendant lights on the ceiling - and be sure to add further mood lighting in the way of table lamps, fairy lights or standing lamps to allow guests to read or relax in their own space later on in the evening.
Get guest-ready with Hammonds bedroom storage solutions
At Hammonds, stylish guest rooms are our speciality. We can help you to maximise the space in your spare room so that you provide your guests with a beautiful area that has great storage capacity for all their luggage and belongings.
If you'd like help with design ideas for your guest bedroom, book a design visit now and one of our experts will be happy to come to your home to discuss all the possible options.
You bring the space, we bring the inspiration
Whether you have an exact vision in tow, or are just at the beginning stage of your home renovation, we have heaps of inspiration for you to get stuck into. 
Find a wealth of design tips, trends and inspiration in the pages of our brochure, magazine and on our blog. Our experts are always ready to help you create dream home, pop in store or book your free design visit for experts to help on bringing your vision to life.