Create the ultimate reading nook for your home
|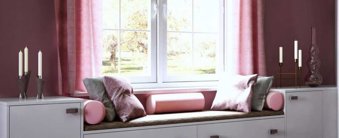 Create the ultimate reading nook for your home
Reading is a therapeutic pastime that can help to relieve stress, lower blood pressure and aid as an escape from the real world. Finding a quiet, uninterrupted space is essential to get the full benefit from your reading experience so, when it comes to creating a cosy reading corner, it pays to put in some effort and consideration.
Here are some reading area ideas to consider, which could help to create the perfect space for all the family to enjoy.
Find the perfect cosy reading chair
Your reading session can be enhanced with a comfy chair on which to curl up. When choosing a reading chair, the key considerations are that it be comfortable, support you in your reading position and look right in the space where you want it placed. Almost everyone likes to have their feet up when they're reading, so having somewhere to rest them is key –a foot stool, an ottoman or a pouffe would be ideal.
Mix cabinets and shelves
Having floor-to-ceiling cabinets and shelves nearby to your cosy reading area provides a perfect storage opportunity for your books, magazines and other stationery. Here you can store your favourite novels as well as your electronic devices and headphones, so that everything is easily accessible when it's time to unwind. No matter where your reading nook is going to be located, when you use bespoke fitted furniture, you can ensure that every inch of space is optimised. Whether it's a corner of your living room, under your stairs or the space between your bed and your wardrobe, there are plenty of options to locate your built-in cabinets and shelves, depending on what you have available at home.
Get creative with book organisation
Over time, you are bound to build up a collection of books which you have read or plan to read in the future. Creating an organised and eye-catching display of books in your living room or office space can be something personal to you that gives beauty and personality to your reading nook.
You could try arranging your books on shelves according to their colour to create an eye-catching visual display - or how about adding some candles or vintage ornaments between the volumes to give a cosy and intimate vibe, like in a hotel library? Get creative with your shelves by painting them in vibrant colours and consider adding LED strip lighting under the shelves - not only to help you to see them in the dark but also to highlight the colours and patterns further as an interior feature.
Install a bay window seat
Bay window seating provides a perfect solo spot for settling down with a good book and a cup of tea. Because of their positioning, window seats allow for lots of natural light and a view of the outdoors, which are perfect accompaniments for a therapeutic reading session. Luckily, built-in bay window seats come with extra storage space, too - underneath the comfy seating area is a place where you can store blankets, pillows and other comfy reading essentials, or otherwise additional books and accessories for which you don't have space on shelves.
Get the lighting right
Installing the right lighting is key when it comes to optimal reading brightness. You want the space to be bright enough so that you're not straining your eyes but not so much that it gets in the way of feeling calm and relaxed. The best way to achieve this is with a reading lamp close by that directs the light exactly onto the space where you will hold your book.
No matter what style of lamp you choose, look into LED light bulbs that offer great illumination and significantly better energy-efficiency than outdated incandescent and halogen bulbs.
Keep things cosy with Hammonds bespoke furniture
If you're looking to create the perfect space to curl up and enjoy the latest thriller or romance novel, then Hammonds is your perfect partner to offer clever reading corner ideas. We can design and install fitted cabinets and shelving for your books, as well as bay window seats for snuggling up on in your free time. Get in touch today to book your free design visit with one of our experts.
You bring the space, we bring the inspiration
Whether you have an exact vision in tow, or are just at the beginning stage of your home renovation, we have heaps of inspiration for you to get stuck into. 
Find a wealth of design tips, trends and inspiration in the pages of our brochure, magazine and on our blog. Our experts are always ready to help you create dream home, pop in store or book your free design visit for experts to help on bringing your vision to life.