Creative bunk bed ideas to keep your children's room organised
|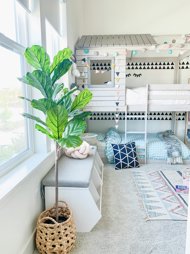 Keeping your kids' bedrooms tidy isn't the easiest task, especially if your children share the same room. However, bunk beds are a solution. Not only are they both playful and stylish, but they offer practical storage solutions to help keep the room organised and clutter-free.
In this article, we'll discuss the most creative and functional bunk bed design ideas to keep even the most chaotic kids' bedrooms in order.
Implement vertical furniture
Vertical furniture is your best friend if space comes at a premium. If you have two children in the same room, investing in extra tall bunk beds maximises every inch and makes the room feel larger, too. They're designed to accommodate the kids as they grow and can easily be separated into two single beds if required.
Vertical bunk bed décor can visually extend the height of a wall, especially if you're adding wall-mounted shelves and other decorative objects to enhance the space. Bunk beds are also ideal for creating more play space and are practical for storage. You can choose options that feature individual shelves alongside each bed or ones that have a desk, drawers and cupboards installed underneath.
More storage underneath
If your child has a room to themselves, you can choose a high sleeper bed that features built-in storage underneath. This style of bed is a similar height to a bunk bed, but you'll usually find hidden nooks, fitted drawers and other storage solutions in the lower space.
High sleepers are superb if you're trying to maximise your room's potential and they're incredibly versatile. Choose to install a desk, wardrobe or play area underneath to keep the main floor space clean and tidy.
Add a slide
Keep things playful by using a slide as a children's bedroom storage idea. Especially fun for the little ones, this entertaining storage solution can take you one step closer to clutter-free bliss.
While the kids are having the time of their lives, behind the slide is the perfect spot for a bookcase or a dedicated toy compartment. And this storage solution is practical, enjoyable and easily accessible to the children and creates an exciting way for them to stay organised.
Pair with fitted wardrobes
One of the benefits of fitted bedroom furniture is that it's made-to-measure. So, regardless of room size or any awkward alcoves, you can make the most of every inch of space in your kids' room. You can even pair your fitted furniture with your bunk beds to maximise space.
Whether you opt for drawers beneath the bottom bunk or wardrobes to fill the space underneath the high sleeper, these solutions ensure your floor space is kept clear. Our  are designed with your needs, style and interior opportunities in mind, ensuring you have a space-saving, well-ordered storage solution.
Incorporate a homework nook
Bunk bed decorating ideas don't just have to be stylish to fit with your home's aesthetic – they can be functional, too. If you've decided on a high sleeper for your child's room, consider transforming the empty space below into a handy homework nook.
Simply slot in a desk, chair and lamp to provide a productive area for optimal focusing. This way, the nook will be tucked away and won't be infringing on play space. By keeping these areas separate, your child will associate different parts of their bedroom with work and play.
Smart bedroom solutions with Hammonds
Fully utilise your space with bespoke, custom-made fitted furniture from Hammonds. Book a free design visit today, and our experts will work with your bunk beds to create a fun but tidy and ordered bedroom for your kids.
You bring the space, we bring the inspiration
Whether you have an exact vision in tow, or are just at the beginning stage of your home renovation, we have heaps of inspiration for you to get stuck into. 
Find a wealth of design tips, trends and inspiration in the pages of our brochure, magazine and on our blog. Our experts are always ready to help you create dream home, pop in store or book your free design visit for experts to help on bringing your vision to life.